A 'Breaking Bad' Bar Is Coming to America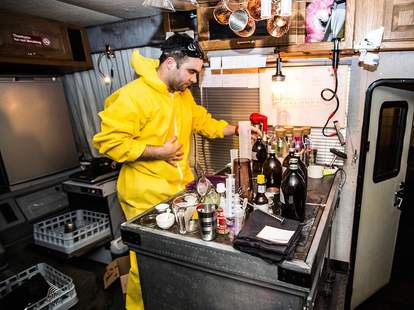 Grab your yellow hazmat suit because it's time to cook—er, shake. A Breaking Bad-themed cocktail bar is coming to New York. ABQ, a bar set in a roving RV, has been supplying Walter White fans across the U.K. with molecular cocktails for two years now, but the mobile drink-making den is making its way across the pond for the first time this summer. The cocktails are meth-free but made with scientific panache, like the liquid nitrogen-cooled Saul's C2H60, Eater reports.
The bar comes from the London-based pop-up group Lollipop, the same crew that brought us an Alan Turing-themed code-breaking bar. It arrives in NYC hot on the heels of the two-day Los Pollos Hermanos pop-up earlier this year, which drew epic lines of Breaking Bad foodies, as well as the opening of a cafe in Bushwick, Brooklyn, called Walter's Coffee Roastery.
Cool as the Turing bar was, Breaking Bad's fan base is a little more excitable than that of The Imitation Game, so it's no surprise that, as of this writing, 7,500 people have already signed up to visit the American installation of ABQ. With limited two-hour reservations available—only 30 people can fit in the camper at a time—you should definitely plop down $45 for your turn and three chemical cocktails. Don't worry; unlike the Turing bar, there's no secret passcode to get into ABQ—after all, the bartenders are the ones who knock.