We Turned Burger King's Whopperrito into a Cocktail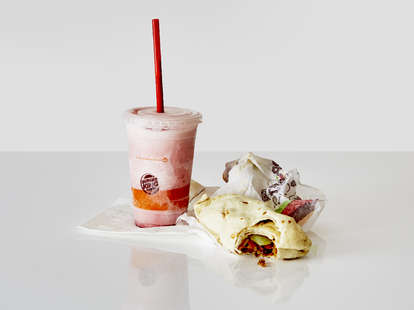 Burger King recently unleashed its latest culinary delight, the Whopperrito, on an unsuspecting world. Compared to some other Instagram-famous foods out there, the Whopperrito is relatively mundane—it's really just a burger with slightly spicier beef stuffed into a tortilla. And we can't help but feel like the creative team gave up after coming up with the name, which, let's be honest, is complete genius.
Don't worry, BK. We'll take it from here.
We decided that the best way to improve upon Burger King's masterpiece was to make it into (what else?) a cocktail. So we threw a freshly-made Whopperrito into a blender along with a strawberry shake. Finally, we added tequila and lime juice, and pushed blend. After seeing the chunky results, we pressed blend again for a very, very long time. Then, we drank it. Oh, heaven help us, we drank it.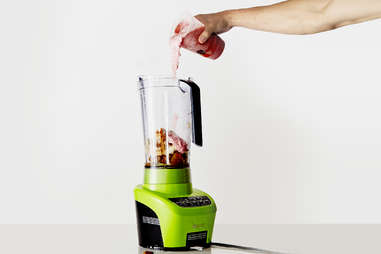 The sweet strawberry played wonderfully off the Whopperrito's Mexican spices and the tequila's bite, all of which were lifted by the lime juice and enveloped by the tortilla's buttery mouthfeel. It was a boozy, blended, burger burrito beverage fit for a king.
Actually, that was all lies.
It tasted precisely the way you'd think it would—like someone blended spiced meat with a strawberry shake and tequila. The flavors didn't come together at all, with the fruity shake luring you into a brief sense of security at first sip before the meat smacks you in the mouth with regret. In case you hate yourself and want to blend it your way, here's the recipe.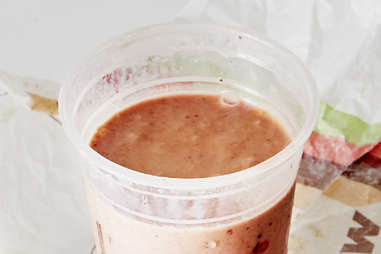 Please Stopperrito
(Makes 2 tall, tall drinks)
Ingredients:
1 Whopperrito, including tortilla
1 BK Strawberry Shake
6 oz tequila
3 oz lime juice
Antacid, for garnish
Tools:
Blender
Poor lifestyle choices
Instructions:
Add all ingredients except for the garnish to a blender.
Blend on high until smooth
Pour into glasses (or leftover BK shake cups). Garnish with antacids.
Drink.
Contemplate the fundamental emptiness of existence.