Winning the lottery is great and all, but living a life of early retirement luxury can get a little, well, boring. That's what English couple Sue Richards and Barry Maddox found after winning £3 million (around $4 million) from a scratch off in 2016. So they mowed an exploding Champagne bottle pattern into their lawn.
Maddox, who Metro describes as "keen on gardening," has put the Wimbledon stripes and a checkerboard into his lawn. Sitting in his four-bedroom detached home with Richards, they decided on something more fitting for people with their financial winnings. On the left side of the lawn is now a bottle of Champagne. It's spraying bubbly around a tree to the right (with the cork in midair, because it's all about the details). The Champagne is magically falling into two flutes on the opposite side of the tree.
The design took three days to make. The tools included a lawnmower and scissors, because again, it's all about the details. That, and rich retirees have a lot of time on their hands.
Recommended Video
The Best (and the Rest): Best Easy Ramen Hacks and Winter Beers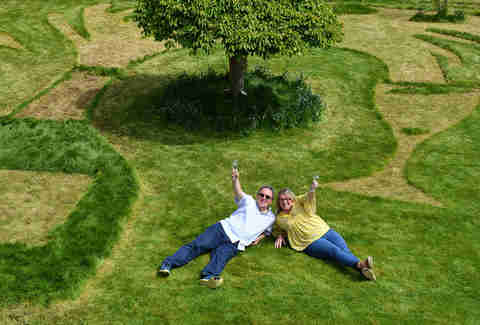 Maddox is a true expert landscaping artist. Forget the stuffy hedge trimming that makes English lawns famous, though. He makes patterns best seen from the air, kind of like the aliens from Signs, but way less threatening. And make no mistake. This is for the Ls. Metro reports that the lawn can easily be seen from nearby properties as well as in the air.
When asked about what people might think, Maddox said his neighbors must think he's mad but it's a lot of fun. "Who knows," he told Metro, "maybe we've created a trend for the summer, lawn-Moeting."