Chipotle's New Chorizo Is Finally Available Nationwide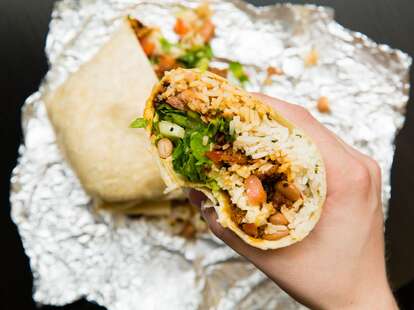 Following months of freefoodpromotions and the recent end to its first-ever summer rewards program, Chipotle is launching yet another attempt to lure you back into its restaurants: chorizo. Starting on Tuesday (National Taco Day!), the spicy new burrito filling will finally be available at Chipotle locations nationwide, the company announced Monday.
Chipotle said the move is based on the "overwhelmingly positive" response it received after introducing chorizo in five test markets across the country back in June. The spicy sausage is made with pork and chicken that's seasoned with paprika, cumin, and chipotle peppers before it's seared on Chipotle's grill for added char flavor. In our taste-test a few months ago, we found the chorizo option to be "good," but often lost in the other flavors crammed into burritos. Here's a quick excerpt from one of our tasters:
"The only point where I could actually taste the chorizo was when I took the meat out, and ate it with nothing else (in hindsight, I should have asked for a burrito with only meat). The chorizo was spicy, spicier than anything I've tried at Chipotle, but you know, still not that spicy. It was due to the paprika, and overall it was a fine, if not overwhelming shot at hitting chorizo on a fast-casual scale."
In other words, it's probably worth trying the next time you hit up your local Chipotle, especially considering how the burrito chain is practically famous for rarely introducing new menu items. Speaking of which, we're still waiting for Chipotle Nacho Bowls.
Sign up here for our daily Thrillist email, and get your fix of the best in food/drink/fun.

Tony Merevick is Cities News Editor at Thrillist and just remembered he has a Chipotle coupon he needs to use ASAP. Send news tips to news@thrillist.com and follow him on Twitter @tonymerevick.