This New Bar Has a Self-Serve Negroni Fountain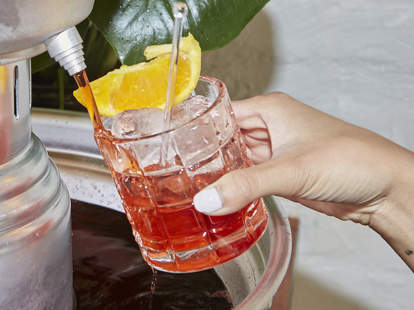 Chocolate fountains are great, but Negroni fountains are much more up our alley. And, lucky for us, a new NYC spot has installed a shiny silver one. Bonus: It's self-serve.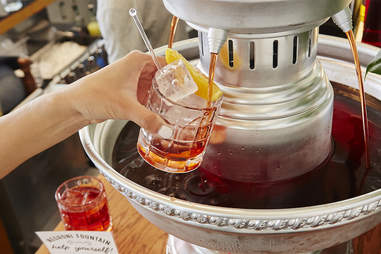 Matthew Kelly/Supercall
Two New York City restaurants, Dante and Genuine, have come together in the former Genuine Superette location to open Dante at Genuine, a sunny, breezy, Italian-inspired spot featuring large format Negroni Sbagliatos (served in a porron, a watering can-esque wine vessel), rosé on tap, a full selection of spritzes, a forthcoming Aperol Spritz Slushie and, of course, the self-serve Negroni fountain.
Matthew Kelly/Supercall
Here's how it works: You tell the bartender you'd like to experience the Negroni fountain. He or she will add it to your tab and hand you a glass filled with ice. It's then up to you to fill your glass to the brim and garnish it with orange wedges—and snap that perfect Insta shot.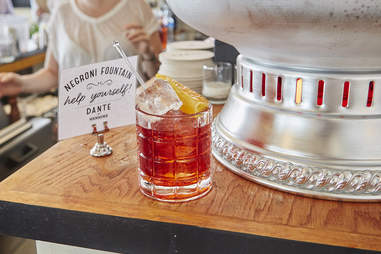 Matthew Kelly/Supercall
Refills are not unlimited ("This isn't Burger King," as one bartender said), so you're on the honor system to let the bartender know if you'd like to have another go. While the fountain is primarily a stunning centerpiece that ostensibly acts as a spirited siren to passersby (it's visible from street view through the wide open windows), it also aerates the cocktail, giving the Negronis (which follow Dante's signature recipe) a silky texture and mellow flavor.
Matthew Kelly/Supercall
Food options include wood-fire oven-cooked pizzas, crispy fried calamari and other day drinking-friendly snacks (the bar opens at noon). Come for the Negroni fountain, stay for the salumi, and come back for that soon-to-arrive Aperol Spritz Slushie.
Matthew Kelly/Supercall