These People Want to Bring a 1,000ft Slip 'N Slide to Detroit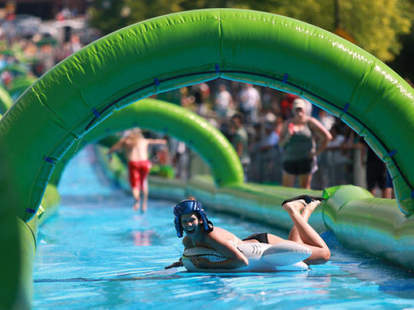 Courtesy of Slide the City
Slide the City, the company that wants to turn America's cities into massive wet and slippery summer parties, plans to drop a freaking 1,000ft Slip 'N Slide on Detroit sometime this summer.
Detroit is one of several cities that are slated to get the street-length Slip 'N Slides events this summer, along with New York City and San Francisco, as part of Slide the City's big expansion this year. However, while details on exactly when and where in Detroit the huge stretch of wet vinyl will be unfurled are still forthcoming, it's probably time to dust off your favorite inflatable dolphin tube for the occasion.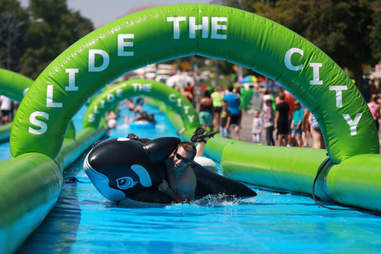 Courtesy of Slide the City
According to the Slide the City website, registration for the Detroit event is "opening soon," and you can expect to pay $20 for a single ride wristband ($15 if you register early), and $60 will get you unlimited slippin' and slidin' for the whole day. All wristband packages include a mouthguard (your own, not a rental!) and even a water gun, just in case you're not getting wet enough. They'll also throw in a free tube if you pay up for the mid-tier and higher-end wristbands that get you more slides.
A few other Michigan cities will also get in on the slippery craziness, including Lansing, Flint, Grand Rapids, and Ann Arbor. 
Here's a couple more shots from previous events: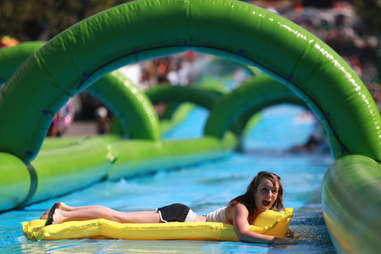 Courtesy of Slide the City
Courtesy of Slide the City
Tony Merevick is Cities News Editor at Thrillist and really wants the killer whale tube. Send news tips to news@thrillist.com and follow him on Twitter @tonymerevick.