This Disney Bar Crawl Is the Happiest Drinking Experience on Earth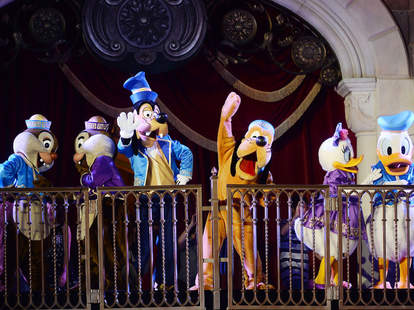 Strap on your glass slippers and order a pumpkin—er, Uber—because there's now a PG movie-themed bar crawl where you can wander from drink to drink dressed as your favorite Disney or Pixar character. The "Character Crawl," organized by special events company Hullabaloo Promotions, will guide Pocahontas, Buzz Lightyear, Minnie Mouse and all their drinking buddies on the magical journey, filled with dancing, shots and—if it's anything like past versions of the event—impromptu renditions of "Hakuna Matata." While you'd definitely get respect from fellow crawlers if you showed up in an official Mickey costume you copped on eBay, you might want to choose an outfit more conducive to cocktail sipping—one that doesn't involve a giant plaster head, for example.
Back by popular demand after an enthusiastic first round of events in April, the animated crawls are set to take place in cities across the U.K. in September. Any Americans who have somehow grown tired of drinking their way through the Disney parks here in the States should pop across the Atlantic to imbibe with fellow cartoon fanatics. It's way better than sneaking booze into Euro Disney any day. Just steer clear of the dude dressed as Gaston—he'll definitely challenge you to a drinking contest.