Dogfish Head's Bottled Cocktails Are Perfect for Lazy Cocktail Lovers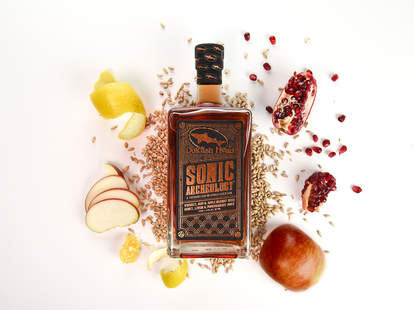 Dogfish Head Distilling Co.
The team at Dogfish Head Distilling Co., the spirits arm of Dogfish Head Brewery, loves a good cocktail. But they can also be a little bit lazy sometimes and not want to actually make one, says James Montero, the general manager of the distillery. Cue the company's growing line of pre-bottled cocktails.
In May of 2017, Dogfish Head announced a limited edition, Prohibition era-inspired bottled cocktail made in collaboration with PBS and Sony Music called Sonic Archeology. Dogfish Head owner Sam Calagione said at the time that the flavor was influenced by the sounds of 1920s musical innovators, which in real terms means a mix of Dogfish Head Distilling Co.'s whiskey, rum and apple brandy along with lime juice and a house-made grenadine. A year later and Sonic Archeology is still around, as are a few new cocktails ready to drink straight from the bottle.
"We see bottled cocktails as a means to deliver a well-made craft cocktail experience to a wider group of consumers and drinking occasions," Montero tells Supercall. And by a wider range of drinking occasions, he means any time from day to night. The two newest bottled cocktails to come out of Dogfish Head are Ginger's Cold Brew Cocktail, made with strawberry-infused vodka and cold-brew coffee, and Compelled To Drink Tea By The Sea, made with gin, lime, rose petals, hops and honey.
While the brewery gets most of the attention, Dogfish Head's distillery is a place to keep in mind for spirits lovers. It makes whiskey, apple brandy and multiple rums, gins and vodkas, as well as the pre-made cocktails. Dogfish Head was one of the first breweries to dip its toes into distilling when it started making spirits at its Rehoboth brew pub in 2002. Today it's got a lot of company, with breweries across the country making the harder stuff alongside their beer. Dogfish Head is one step ahead of the others though, capitalizing on the rush of ready to drink cocktails that have come out in cans and bottles over the past two years.
Supercall was able to try Sonic Archeology, Ginger's Cold Brew Cocktail and Compelled To Drink Tea By The Sea. Here's what to expect when you get a chance to try them for yourself.
Sonic Archeology
This is a take on a cocktail called the Twelve Mile Limit, which is itself a twist on the Whiskey Sour. It's made with Dogfish Head's malt whiskey, tart apple brandy and Barrel Honey Rum. Honey-sweetened pomegranate juice acts as the house-made grenadine, and lemon juice brightens it up. It's reminiscent of honey sticks from the state fair and is best served over ice.
"We purposely bottle Sonic Archeology a little extra sweet-tart with the recommendation that you pour over ice," Montero says. It is also good with a splash of sparkling water, and if you combine it with an equal measure of sparkling wine you have a French 75 twist that Dogfish Head calls a Sonic 75.
Ginger's Cold Brew Cocktail
Ginger's Cold Brew Cocktail goes down so smooth it's hard to believe there's alcohol in there. That makes it a little dangerous at 20-percent alcohol by volume, but oh so good. Coffee is the most obvious flavor. It's also a touch sweet and fruity, and drinks well over a big cube of ice. Montero also suggests using it instead of Kahlúa in a White Russian.
Compelled To Drink Tea By The Sea
The name is a bit of a mouthful, but the drink is full of flavor. Dogfish Head's Compelling Gin is the drink's base, and a custom tea made with loomi limes, rose petals, simcoe hops, lactose, sea salt from the Atlantic and wildflower honey fill it out. The drink is overly sweet on its own, but shines when thrown in a highball glass with some ice and soda water.