This Is the World's First Hemp Milk Liqueur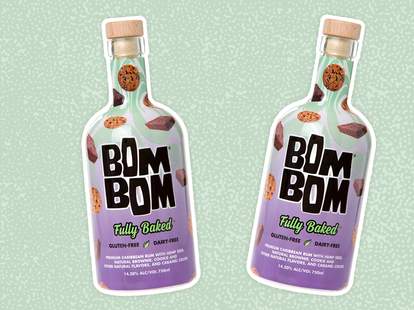 Milk alternatives have been filling cereal bowls and cooling cups of coffee for years. Now non-dairy "milk" is coming for your creamy alcoholic beverages. But not just any "milk." Hemp milk. BOM BOM Brands is releasing the first hemp milk alcoholic beverage on June 1.
The drink is called Fully Baked and, according to a press release that has more marijuana references than Up in Smoke, it tastes like chocolate chip cookies and brownies. It's made with Caribbean rum, hemp milk and flavoring, and was designed to taste like the BOM BOM founders' favorite Ben and Jerry's ice cream flavor: Half Baked.
"We are thrilled that talking about Fully Baked is no long on a 'weed-to-know basis,'" BOM BOM the husband/wife team of Kevin Mowers and Eva Maria Janerus wrote in a statement. "We decided to take Half Baked all the way with Fully Baked. We want our company to always evolve and we never settle for just good or even just great, which is why Fully Baked uses hemp milk."
Jokes aside, hemp milk is the least offensive of the milk pretenders. It's made by soaking the seeds of the hemp plant in water and then grinding them. It's vegan, nut free and doesn't contain THC. It does contain calcium, protein and omega-3 fatty acids. Hemp milk is a trustworthy alternative for people who are lactose intolerant and allergic to nuts, meaning that Fully Baked is safe for those people too (if they're into drinks tasting like dessert).
Fully Baked will be available in Massachusetts, New York, New Jersey, Connecticut and Rhode island starting June 1.