George Dickel Just Released a Tabasco Barrel-Finished Whiskey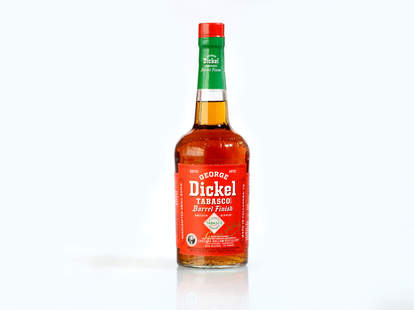 Whisk(e)y lovers and heat seekers, this one's for you: George Dickel Tennessee Whisky just released a Tabasco barrel-finished bottling. And yes, it's actually spicy.
George Dickel poured its Tennessee Whisky into used Tabasco barrels (if you weren't aware, Tabasco is aged in barrels). They then kept it there for 30 days, allowing the spice and the flavor of the hot sauce to creep into the spirit. To kick it up even more, distillers added a distilled Tabasco essence to the whisky for an extra-spicy bite.
Lest you think this bottle (which convincingly looks like a giant Tabasco bottle) is just a stunt, know that it won a gold medal at the 2018 San Francisco World Spirits Competition. This whiskey is no joke.
"George Dickel Tennessee Whisky and TABASCO are two of the most iconic brands the South has to offer for a reason—the craftsmanship that goes into creating these products is the real deal," said Jeff Parrott, director of American whisk(e)y development at Diageo in a press release. "Both brands have such a rich history, and we're proud to collaborate with our friends at McIlhenny Company to marry their unique flavor with our quality Tennessee whisky."
The company recommends folks take the spicy whisky as a shot with a pickle juice chaser, but we think it could also be a good replacement for vodka in a Bloody Mary or in a lip-tingling Whiskey Sour. The whisky is available now and retails for $25.