You Can Now Get Hitched at Taco Bell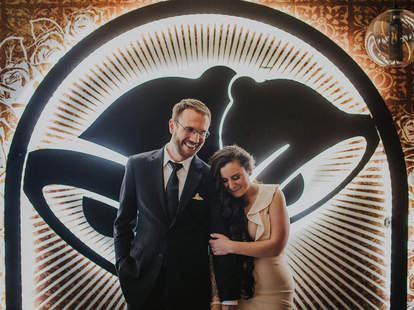 Weddings are a beautiful celebration of love, commitment and, starting August 7, the Crunchwrap Supreme. Soon, you and the taco-loving love of your life will be able to join together in holy (guacamole) matrimony at a chapel within the Taco Bell Cantina in Las Vegas, followed by a reception with up to 15 guests all raising branded Taco Bell Champagne glasses in celebration. As the company's official press release explains, "a Taco Bell wedding will be an experience you'll 'taco 'bout' for years to come." No, really. It actually says that.
If the idea of a Taco Bell wedding is a dream come true, you have Dan Ryckert and Bianca Monda to thank for it. They won the Love and Tacos contest, and became the first couple to say "I do" in the Cantina this past Sunday. After August 7, anyone can simply walk up to the counter with their beau (and a wedding license) in tow, and order a Nachos Bell Grande with a side of a wedding.
For a cool $600, Taco Bell will provide an ordained officiant, a heartfelt (or at least legal) ceremony, and a private reception. Along with the branded Champagne flutes (which are filled in the company's promotional materials with a mysterious green liquid), you'll also get a Taco 12 Pack, a Cinnabon Delights cake, a sauce packet garter and bow tie, "Just Married" T-shirts, and a sauce packet bouquet.
All in all, the Taco Bell nuptials seem more romantic than the typical shotgun wedding with an Elvis impersonator. Just remember, whoever catches the hot sauce bouquet gets indigestion next.