Gin Ice Cream Is Real and You Can Have It This Weekend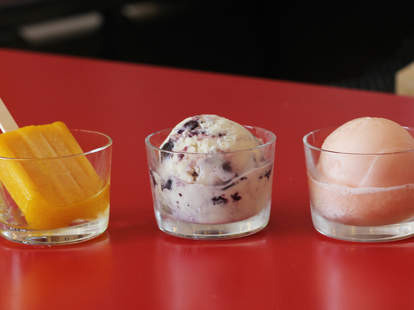 If boozy ice cream isn't at the top of your summer bucket list, you need to get it there. And while the newly opened Tipsy Scoop bar may be getting most of the attention this season, it seems like they will have a little inter-borough competition: OddFellows Ice Cream will be serving up three gin-spiked treats this weekend in Williamsburg, Brooklyn.
The promotion coincides with World Gin Day on Saturday, as well as the annual, nationwide Negroni Week. Sadly, there aren't any Negroni-flavored treats on the menu, but the shop is offering other delectable gin-fused desserts, including Gin and Berries ice cream, Gin and Grapefruit sorbet, and Gin and Juice popsicles.
Megan Kiantos
The Gin and Berries ice cream is made with Dorothy Parker Gin, distilled locally at the New York Distilling Company and flavored with juniper and huckleberries. The Gin and Grapefruit sorbet uses UK-distilled Portobello Road Gin, which gets folded with rosemary ice cream. And lastly, the Gin and Juice popsicle is simply made from tangerine juice and Australian Four Pillars Gin.
You can sample all three treats by ordering a gin ice cream flight for $13 at the Kent Avenue location. The boozy ice cream will only be available through the weekend, but don't worry if you can't make it; OddFellows is known to serve plenty of other spiked ice cream flavors regularly, from Guinness, to Tequila Pineapple, to Absinthe Chocolate Chip.