Sometimes the desire for booze and fast food must be put on hold when the monthly budget runs dry. But instead of getting down on her luck, one brave woman in Australia decided to turn to the internet to fund her partying.
Last month, Tyler Jan Laurie from Toowoomba, Queensland, launched a GoFundMe campaign entitled "Need some Maccas and vodka." For those not in the Aussie lingo know, "Maccas" is slang for McDonalds.
Laurie's campaign sought to raise a hefty $100, which would have been more than enough to cover a handle or two of vodka, some Big Macs, a large fries and even a few of those delectable hot apple pies. Unfortunately for Laurie, she received zero donations before her campaign was taken down, though you can still view it here. It's unclear if GoFundMe removed the campaign or if Laurie took it down herself after receiving international attention for it.
Recommended Video
Thrillist's Best (and the Rest): What You Actually Need to Know About Natural Wine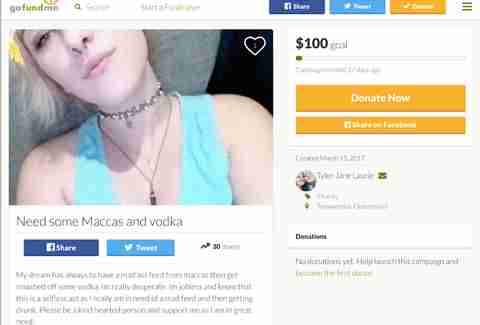 "My dream has always to have a mad ass feed from maccas then get smashed off some vodka," Laurie wrote in the campaign description. Lest anyone think Laurie was undeserving of their hard-earned cash, she assured that donating would be a "selfless act," adding, "I'm really desperate. Im jobless [and] I really am in need of a mad feed and then getting drunk. Please be a kind hearted person and support me as I am in great need."
 The campaign was shared many times on social media, but unlike the Kickstarter campaign for a potato salad that raised $55,000, people weren't as quick to get behind her cause, with most people commenting a simple "no," according to The Daily Mail.
Others claimed, though, that Laurie's campaign was meant as social commentary for people who use GoFundMe to pay their bills. But we're not convinced—it looks like this girl was just trying to catch a free round of shots and a Happy Meal. We can't blame her for trying.