This Halloween-Ready Gin Was Cursed by a Professional Witch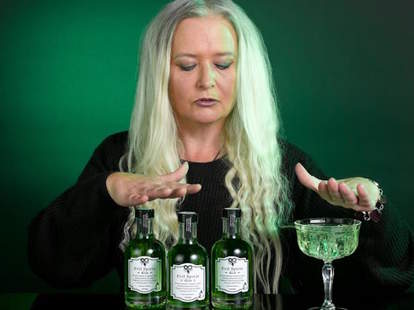 There are plenty of boozy ways to fill your All Hallows' Eve with tricks and treats, from sweet candy cocktails to ghoulish Jello Shots. But if you've outgrown that kid stuff and are ready to drink something truly spooky, pick up a bottle of Evil Spirit gin, which is actually cursed by a real witch.
The accursed booze—offered by oddly upbeat retailer Moonpig—comes from Pluckley, England, which holds the Guinness World Record for most haunted village in the country and is home to 12-16 ghosts, depending on who you ask. The bright green gin was infused with botanicals grown in the town, including mint, "possessed apple" and Devil's Claw, which is a lot less intimidating when you find out it's used as a treatment for arthritis.
Each finished bottle was then individually cursed by "professional witch" Julianne White, making Evil Spirit the most artisanally bewitched liquor around. According to The Spirits Business, Moonpig managing director James Sturrock said, "Our gin is guaranteed to raise the spirits at any Halloween party. While we're loved for our unique personalised gifts, 'cursonalised' items are a whole new category for us."
According to Moonpig, White performed her "bespoke blessing" over the gin during October's full moon, infusing it with the power to allow "the drinker to follow whatever their hearts desire—whether it is for good or evil." We just hope it will somehow help us win the costume contest.