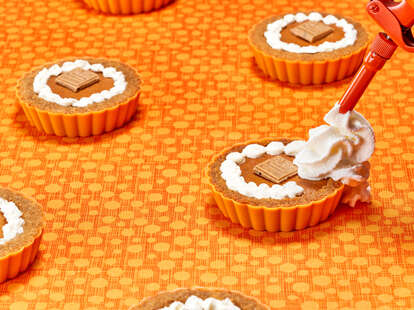 There's a lot of pressure when you're hosting a Thanksgiving (or Friendsgiving) meal. There are loads of options for what to include in the spread, and it's tricky to find the right balance that makes for a balanced meal that impresses from start to finish. You need some classic dishes and you need to have something that surprises.
One of the hardest parts can be dessert. There are so many entrées and sides to choose from that it's hard to completely miss the mark. But when it comes to dessert, there are limited traditional options and it's not easy to pick one that will please everyone. I'm not going to tell you that this alternative is going to please everyone, but it's going to make some people incredibly happy. Incredibles is making a Pumpkin Pie chocolate bar with cannabis in it. It's a unique dessert and it'll definitely surprise some of your guests.
The cannabis treats have pumpkin spice flavoring along with white chocolate and graham crackers. Incredibles products are currently available only at Rise locations and local dispensaries in Colorado, Illinois, Maryland, Massachusetts, Nevada, and Ohio, since only select states allow the sale of recreational cannabis products.
It might not fill up your guests, but the bar will likely please them. Plus, who needs to fill up on dessert when we're talking about an expansive Thanksgiving spread? (Though, you can obviously eat the new bar any time you please.) The new weed edible from Incredibles is a 100mg THC bar that breaks apart into 10mg squares for some precise dosing around your holiday table.