We Tried Jägermeister's New Premium Liqueur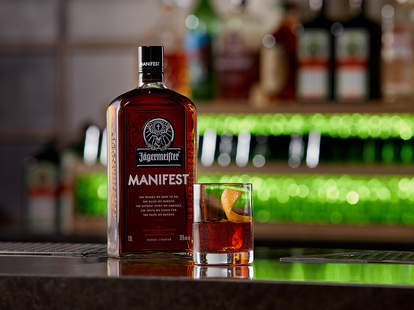 It's time to forget what you think you know about Jägermeister. For the first time in its 80-plus year history, Jäger is releasing a premium liqueur in the United States called Manifest, and it's the type of spirit that'll change your mind about Jägermeister being just a college shooter.
At around $60, Manifest is priced in a completely different category than the flagship. It's not designed for shotskis or Jäger Bombs—it's for Jäger fans (and Jäger skeptics) to drink neat and mix into cocktails. Manifest is 38 percent alcohol (3 percent higher than the standard) and is packed with more than 56 herbs, roots and flowers. There's plenty to unpack in the taste and aroma, like fruit, baking spices, mint, dark chocolate and vanilla, all rounded out with a slightly woody finish. It drinks smoothly when served neat and has a consistency similar to Campari or an Italian amaro—not syrupy, yet not as thin as a whiskey. When poured over a single ice cube, Manifest sips almost too easy.
What sets Manifest apart from standard Jäger is even more secret botanicals, one extra maceration of said botanicals and a longer maturation period. And yes, the botanicals really are a secret. Like Fernet-Branca, Coca-Cola and Kentucky Fried Chicken, only a handful of people know the recipe for Jägermeister and Jägermeister Manifest. The company is willing to spill on the latter's aging process, though. Manifest uses a wheat distillate from northern Germany that's blended with the original recipe. The liqueur then spends more than a year aging in small and large oak casks, which softens the spirit and knocks down some of the most aggressive notes, adding depth along the way. It's removed enough from standard Jägermeister to justify the price, yet familiar enough to recognize the brand.
At a release event, Manifest was served in three ways: neat, over ice and in an Old Fashioned twist (1.5 ounces Manifest, .5 ounces bourbon, .25 ounces black tea syrup and an absinthe spritz). Michael Toscano, a bartender at Dante in New York City, also referenced other cocktails to use it in, like a Manhattan-esque drink with whiskey and Jäger, or a Negroni twist using Punt e Mes.
Manifest can be found in select bars and liquor stores, but only a limited amount was released, so getting your hands on a bottle might prove difficult.