Jameson Released Its First Cask-Strength Whiskey Available Worldwide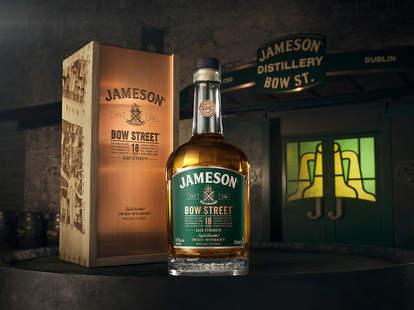 Jameson is showing loyal consumers a different side of the brand. The most popular Irish whiskey in the world recently released its first cask strength bottle, Bow Street 18 Year, to be available worldwide.
The Cask Strength is an 18-year-old whiskey matured in bourbon and sherry casks. It's bottled at 55.3 percent alcohol and isn't chill filtered. That strength, plus an intense flavor profile and a $290 price tag, makes it different in every way from the Jamo you shoot with pickle juice at a dive bar.
"I'm thrilled that Irish whiskey fans around the world can now experience the full intensity of our whiskey or add a few drops of water to enjoy it at their own preferred strength," Billy Leighton, the master blender at Midleton Distillery where the spirit was made, told The Spirits Business.
The bottle also breaks other boundaries.The final leg of aging happens at the Jameson Distillery Bow Street in Dublin, the most popular whiskey distillery in the world to visit, making it the first Jameson expression since 1975 to be partially produced in the brand's original home. That visitor-friendly Jameson location also has a Jameson Black Barrel cask strength whiskey that's 59.8 percent alcohol, but with the new 18 Year, you don't have to travel to Ireland to get a taste of strength.
"While Jameson's approachability has been key to its success, we had an opportunity with Jameson Bow Street 18 Years Cask Strength to reinforce the more serious whiskey side of the brand's heritage," Simon Fay, the international marketing director at Irish Distillers, said. A strong, pricey and sippable side of heritage.