[Update] Cocktail Prince announced a slew of new characters who will be joining the popular cocktail video game. The characters look awesome and are totally emblematic of the cocktails they represent. Here are a few of them:
Recommended Video
'Power's' Joseph Sikora on His Craziest Fan Encounters and the Last Season of 'Power'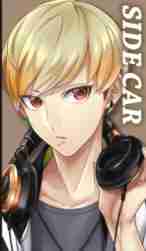 Side Car is a sort of hipster looking boy based on the brandy-based cocktail, which makes sense given the drinks sleak and obscure blend of Cointreau and Cognac. Brandy cocktails themselves are certainly more obscure than their vodka- and whiskey-based counterparts.
Gimlet is a man with a sweater wrapped around him looking like a regular at a bougie tennis club, aptly representing the classy gin and lime libation.
The Screwdriver cocktail was believed to have risen to popularity thanks to the working stiffs who enjoyed it after a hard day's work. Screwdriver looks like a hard worker, himself. Rocking a classic white tee and jeans, Screwdriver looks like a guy who gets his hands dirty.
Bellini is a laid back female character in a hoody, fun striped socks and crocs who looks as fun as the brunch cocktail she is named after.

Long Island Iced Tea is a trendy-looking man in a trench coat who looks well put together, sort of the opposite of how you would look after a few of the cocktails he's based on.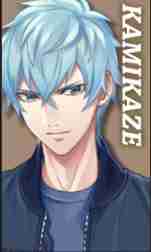 Kamikaze
Kamikaze is a rough-around-the-edges character, who looks like he's no stranger to trouble -- a tendency he shares with the Kamikaze shot.
Perhaps a trendier version of the Long Island Iced Tea character, Manhattan looks like a cool city-goer himself. He rocks purple hair with a pink streak and looks as sleak as New York's favorite borough.
Cocktail Prince, an upcoming bar-themed, anime-styled mobile game from Japan, challenges players to manage a bar and complete bartending training mini-games. In the weeks leading up to the game's release this fall, developer Geechs has been announcing a range of characters inspired by different mixed drinks.
In Cocktail Ōji, the gamer takes the role of an heiress to a rundown bar, who hires six bartending "princes"—all personified cocktails—to help her revive business. As Anime News Network puts it, these suitors also offer her the chance to "drink her way to love" (much like The Bachelorette). The developer even released a music video featuring the game's theme song, titled "Making Love!!" (We're still not sure if there's any singing about cocktails in there. A buddy in Japan could only make out a few generic phrases like "I will get strong for you" and "I will give you a deep tour / Let's go!"). 
The protagonist's primary love interests are Tom Collins, Salty Dog, Martini, Tequila Sunrise, Moulin Rouge and Emerald Mist. However, they're just the tip of the character roster iceberg, which also includes interesting additions like the twins Caipirinha and Caipiroska, and the cross-dressing Pink Lady. Character personalities even correspond vaguely to their eponymous cocktails. The friendly, energetic Tequila Sunrise, for instance, is described as a "die-hard athlete with a mind for good service" (though we can't say we've ever been inspired to good service by tequila). Meanwhile, the prideful Martini "basically treats everyone with a condescending attitude and has absolute confidence in himself" (that one seems about right).
Game-makers hope the game's success will help launch a manga tie-in, as well as merchandise and possibly a full anime series. It's unclear yet if Cocktail Ōji will make it to American shores, but given Nintendo's fantastical profit on Pokémon GO and plenty of real world cocktail bars cashing in on that game too, the U.S. mobile market seems well primed for Cocktail Ōji's particular blend of anime, gaming and cocktails.