We Tried KFC's Gravy Cocktails (and We Actually Liked Them)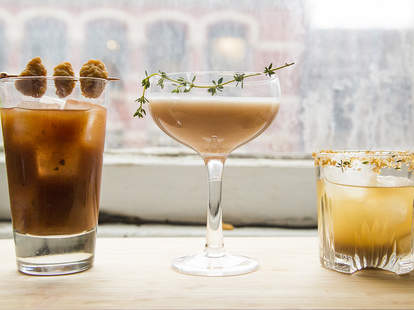 Marisa Chafetz / Supercall
Every now and again, a major corporation that has little to nothing to do with alcohol tries to capitalize on cocktail culture, with Piña Colada Oreos, for example, or Taco Bell's alcohol-serving Cantinas. On Jan. 14, Kentucky Fried Chicken joined that group when the U.K. and Ireland KFC marketing team debuted three KFC gravy based cocktails.
The cocktails joined The Colonel's incredible run of stunts like Extra Crispy Sunscreen and KFC scented candles. This one hit close to home, though. There's the Finger Lickin' Sour made with gravy and mezcal, the Southern Twist made with gravy and bourbon, and the Gravy Mary, a Bloody Mary twist with, you guessed it, gravy.
Lotsofhate gets thrown out about explicit attempts at garnering headlines like this. The automatic response to mixing fast food into drinks is "ew." But someone (probably) put a lot of time into developing these recipes and creating videos for them. Also, things shouldn't be written off before a taste test. So we gave KFC gravy cocktails the consideration the brand asked for and made them ourselves.
Before I traveled a mile to the KFC closest to Supercall's downtown Manhattan office, my first impression was that the Southern Twist and Gravy Mary sounded like they had promise. The Finger Lickin' Sour sounded, well, awful. Sweetening cherry liqueur and orange marmalade could maybe give it some Thanksgiving dinner vibes, but the heavy hand of four parts mezcal to one part gravy seemed face-numbing at best.
Disgust, however, often comes from a place of misunderstanding. So, without further ado, here are the tried and tested KFC gravy cocktails, from least to most drinkable.
Marisa Chafetz / Supercall

Ingredients:
1 oz gravy
4 oz mezcal
.5 oz cherry liqueur
1 tsp orange marmalade
Juice from half a lemon
Salt and pepper
Hands down the weirdest of the bunch. The savory gravy flavor made the mezcal taste out of place, like an 18th century Kentucky colonel walking into a trendy agave-focused cocktail bar in Manhattan. The sweetness added little to the drink. It felt creamy from the gravy and the egg white, but not in a desirable way. While I wouldn't order it again, I've definitely paid for worse. Note: We didn't freeze the mezcal-gravy mix for three hours first, because nobody has time for that.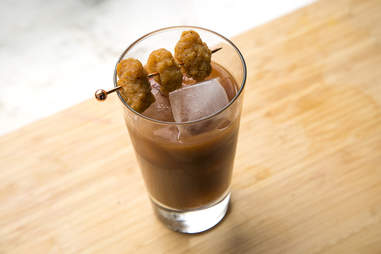 Marisa Chafetz / Supercall

Ingredients:
3 oz tomato juice
Spice mix (hot sauce, paprika, celery salt, pepper, worcester sauce, lemon)
1.5 oz vodka
.5 oz gravy
KFC Popcorn Chicken, for garnish
As expected, a Bloody Mary with gravy is delicious. This should be on every day-after-Thanksgiving brunch menu. We took a shortcut and used a favorite spicy Bloody Mary mix called Ubons, but if you're building the drink from scratch, then extra spice is super nice when playing off the gravy.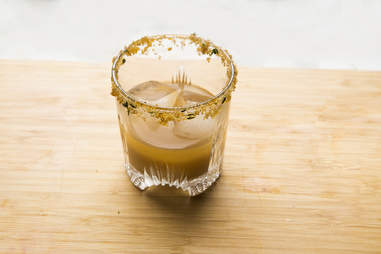 Marisa Chafetz / Supercall

Ingredients:
1.5 oz bourbon
2 oz gravy
Black pepper
Brown sugar
Dried parsley
The Southern Twist is essentially a chilled shot of bourbon and gravy on ice. Considering that gravybacks (like a pickleback, but with gravy) are shockingly pleasant, this one had a lot of potential from the start. It didn't disappoint, as much as a gravy cocktail can fail to disappoint. Bourbon and gravy belong together, even when served cold. In my initial shopping run excitement and curiosity of whether I could buy just the gravy at KFC, I forgot to buy the dried parsley the recipe calls for. I improvised and swapped in some thyme, and it was a nice herbal touch on the rim of the glass. The most off-putting part is that the brown sugar rim looks too close to crushed popcorn chicken.
In the end, whether you take the mix as a shot or drink it on the rocks, pulling out the bourbon and gravy at a party will leave you with pleasantly surprised, possibly disgusted and surely curious friends.