Hangover-Free Prosecco Promises Worry-Free Celebration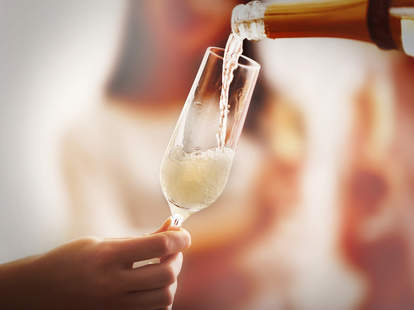 Africa Studio / shutterstock
There are two ways to beat a hangover: Cure it the next day with go-tos like greasy food or hair of the dog, or stop it from ever happening. We're not suggesting you travel back in time to slap that coupe away from your past self's mouth and risk a boozy paradox. We're suggesting you drink Lidl's new (allegedly) hangover-free Prosecco.
With the winter holiday season fast approaching, there's probably going to be a lot of bubbly in your future, and there's nothing worse than a hangover the day after the festivities, when you have to face family or, even worse, coworkers. The German discount chain plans to solve that quandary with their Organic Prosecco Spumante, an all-natural bubbly that uses fewer sulfites (which help preserve wine) than other varieties. According to Lidl's "Master of Wine" Richard Bampfield, that's enough to avoid nasty side-effects the next morning.
While it's unclear if sulfites are really to blame for that killer headache and earth shattering nausea, we're willing to make the switch to Lidl's new bottling just in case. Given that a bottle goes for just 8 pounds (about $10.50), we think it's a risk worth taking—assuming the new bottle even makes it to the U.S., that is. At the moment, Lidl doesn't plan to offer the Prosecco in stateside stores. Considering how attractive hangover-free festivities sound, our British colleagues will probably drink up the entire stock soon, so if you do plan on picking up a case for your holiday bash, you'd better get to it.