Courtesy of Vincent Laforet
London Will Never Look Better Than in These Aerial Photos
Unless you have your own private plane or helicopter -- in which case, can we be friends? -- you've probably never seen London quite like this.
But now, thanks to aerial photographer extraordinaire, Vincent Laforet, we can all get breathtaking looks at a dazzling, nighttime London from thousands of feet above with the latest installment of his spectacular AIR series. Previous iterations have captured New York City, San Francisco, Los Angeles, and Las Vegas from above. London is the first of a handful of European cities Laforet has lined up for the project, followed by Barcelona, Berlin, Paris, and Venice. 
Courtesy of Vincent Laforet
While Laforet said he was worried about how the collection would turn out compared to the American cities he's photographed, the photos capture London's glowing web of winding streets as well as the city's major landmarks.
"The streets can be best described with one word: chaotic," Laforet said by email. "There is a beauty within the mysterious curves of London's streets -- and especially at night. I found them simply mesmerizing."
Courtesy of Vincent Laforet
In addition to being mesmerized by London's beautiful geometry and sprawl, Laforet said he also noticed how the city has changed since he last saw it from above back in 2008. Among the differences in its appearance, he said the changes in the city's lighting was the most striking.
"The city has changed remarkably since then," he said. "The presence of LED lighting is extremely visible and likely in large part due to the Olympics."
Camera technology, too, has changed over the years, allowing him to capture clean and clear images at night and making the entire project possible, he said.
Courtesy of Vincent Laforet
The city's blend of old and new architecture -- not just its curving streets -- adds to London's beauty from above, he said.
"This is an extremely rich city visually and exudes history," Laforet said. "Big Ben is a wonderful example of the different types of light and their color temperatures due to the older yellow (sodium vapor) and green (fluorescent) mixed in with magenta (fluorescent) and white daylight balanced LED lights. I find this to be one of the most fascinating qualities of this project: had we shot it a few years ago, you'd see much more monochromatic (mostly yellow) lighting... it would simply not be the same."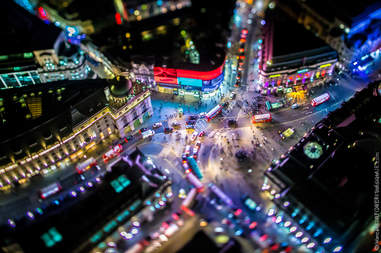 Courtesy of Vincent Laforet
You can check out the full set of photos at Laforet's Storehouse site and pre-order his book of the Air series photos here.
Courtesy of Vincent Laforet
Tony Merevick is Cities News Editor at Thrillist and hopes to visit London some day, so start working on your pizza game now. Send news tips to news@thrillist.com and follow him on Twitter @tonymerevick.