Dumbfoundead's Day Off in Koreatown, LA Is an Ode to His Heritage
The rapper and actor shows us what makes LA's Koreatown truly authentic and dishes on his favorite katsu spots and karaoke bars.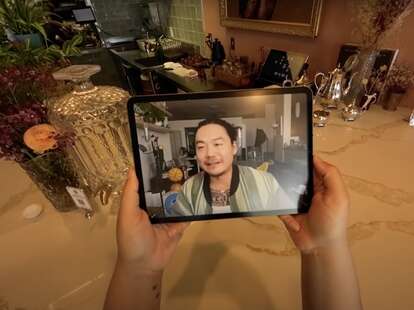 Dumbfoundead is so proud of his Los Angeles neighborhood that he probably identifies more as a Koreatown resident than a Korean American, he says.
"Growing up in an area that's so predominantly Korean, it really gave me the confidence to be who I am and be proud of my heritage and background," the rapper and actor said in a recent interview with Thrillist. Dumbfoundead's Koreatown is the empowering community that made him the person he is today. It influenced his personality and his artistic side alike, and his music is a result of that upbringing.
Los Angeles' Koreatown feels as if a chunk of Seoul was magically transplanted into LA. Everywhere you look, signs are in Korean. Restaurants and bars welcome guests with Korean menus, and somehow, it feels like the neighborhood will stay forever unchanged, like a photograph you took a few years ago. "A lot of people talk about gentrification in different communities, but I think the popularity of Korean culture helped slow down the gentrification in Koreatown," Dumbfoundead said. "People still want to go to these restaurants and businesses where the signs and menus are still in Korean. They want the authenticity of Korean culture."
In our series "Ride With Me," Dumbfoundead guides us into the parallel universe that is LA's Koreatown, making us feel like we traveled across the world without hopping on a plane. A self-proclaimed Koreatown city council member, Dumbfoundead knows all the right spots for an immersive, exhilarating, and truly authentic Koreatown experience, and dishes on his favorite spots in his beloved neighborhood.
Plates with katsu so big they look like the United States, drinking games at the neighborhood Korean Bar, karaoke sing-alongs, and delicious Korean side dishes that prove a restaurant's worth are only a few of the many gems Koreatown has to offer. Luckily, we have the perfect guide to walk us through all of them.
So grab your skateboard and make sure you don't wear a white shirt (mind the sauce!). We're going to Koreatown.
Places to Eat & Drink
Dan Sung Sa
According to Dumbfoundead, the first shot you should take at Dan Sung Sa is beer and soju—together in the same glass, that is.
"Dan Sung Sa is one of those drinking places you might start off with," he said. "And if you go in there, it's like a look into Seoul nightlife almost." Dumbfoundead likes to go here with his friends to kick off the night, and swears by the classic Korean drinking games.
To help with the alcohol intake, there is always some Korean food. "Koreans love eating while you drink," Dumbfoundead said. "So I'd probably order something like a fish cake soup, which kind of keeps you stable so you don't get too out of control."
Chunju Han il-Kwan
Chunju Han il-Kwan is one of Dumbfoundead's favorite restaurants in Koreatown, and you can't go wrong with any of their dishes. But their sides are his favorite. "You can judge a really good Korean restaurant by their side dishes," he explained.
The restaurant is well known for their army stew, the origins of which date back to when the US Army was stationed in South Korea. "They'd just get a can of Spam and sausage bits or whatnot and dump it in the soup," Dumbfoundead said. "And I know not a lot of cultures mess with Spam, but I grew up on Spam. I never saw it as a gross thing and I still don't. I love a good Spam bit in something."
Koreatown Plaza
Dumbfoundead isn't really sure about who visits the shops at Koreatown Plaza mall, but what he does know is the mall's food court is popping.
It's the perfect place for when you are with a group of friends and just can't decide on a spot. It's simple: You split up, get some good food, and meet at the table.
Dumbfoundead definitely recommends the food court's katsu spot. "It's one of the biggest servings of katsu you'll ever see," he said. "Just a big, fried—like it's shaped like the United States."
Olivia
Dumbfoundead is not going to front: He's had the best salad of his life at Olivia.
The newly opened vegetarian spot has already won Dumbfoundead's heart. With all the Korean barbecue and meat places in Koreatown, he said it's refreshing to get a new, healthier addition to the neighborhood.
Dishes like fried olives, an amazing cheese plate, and (of course) their salads are great options for when you're craving something fresh and healthy. And don't forget their pizzas; they're super tasty and vegan, too.
Things to Do
Radio Korea Plaza
If you're a fan of skateboarding, particularly the not-so-legal kind, the plaza in front of Radio Korea is made for you.
"[Radio Korea] was one of the first radio stations that broadcasted to the Korean immigrant community that didn't speak English very well," Dumbfoundead explained. "And it's become one of the most infamous skateboarding places in the last 15 to 20 years."
The sprawling flat plaza makes for a perfect skateboarding spot but, alas, there are many signs—as well as patrolling agents—that prohibit the activity.
What was the phrase? "Out of sight, out of mind?" You get it.
Shrine Karaoke
This is the ultimate night-out-with-friends spot. Music? You have it. Drinks? Ready and waiting.
Owned by one of Dumbfoundead's friends, Shrine Karaoke is a classic Korean karaoke bar where every group gets their own private party room. "Sometimes I even just like to have the karaoke room and we just put on an aux and we just play our own playlist," he said.
But don't think the karaoke will cut you any slack. "It's intimidating because they'll have the automatic score at the end," Dumbfoundead said. "It's like, God damn, I thought I killed that!"
Serena Tara is a Staff Writer on the News team at Thrillist. Follow her on Twitter and Instagram.
Janae Price is a Staff Writer on the News team at Thrillist. She's a native New Yorker and loves all things cheese, K-pop, and culture. Follow her on Instagram and Twitter @janae_larie.