Batten Down the Hatches: A Massive El Niño Might Blast California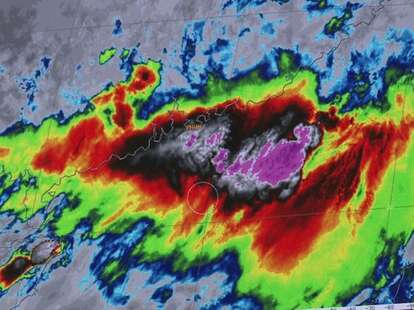 Himawari-8 Weather Satellite
Good news, Californians: that water you've hoped and prayed for is finally coming! The bad news is it's probably coming in the form of an enormous flood. ¯\_(ツ)_/¯
Images from Japan's new Himawari-8 Weather Satellite show what could potentially be a historically massive El Niño this winter, News10-KXTV repots.
For those not up on meteorological lingo (losers), an El Niño is not as cute as it sounds. It's a complex climate pattern that can bring about severe climate changes, including coastal flooding and erosion. Recently, cyclones and typhoons have shifted trade winds from west to east, driving warm water toward the coast of South America, and guaranteeing that an El Niño event will last at least through this upcoming fall, USA Today reports.
"Almost all models are showing consistency that we're seeing a stronger and stronger tendency for [an El Niño] to hold in place through the winter season." News10 Chief Meteorologist Monica Woods said, "It could rival that of 1997." The 1997 El Niño caused vast flooding across Northern California.
On the surface, the thought of much-needed water to end the historic California drought sounds like an inarguably good thing. But catastrophic, Genesis-level flooding is not exactly the greatest alternative.
Lucy Meilus is a staff writer for Thrillist. Her bathtub flooded once. Follow her on Twitter at @Lucymeilus and send news tips to news@thrillist.com.