Buy Tickets for Tonight's Secret Rolling Stones Club Show RIGHT NOW
Long rumored and finally confirmed, The Rolling Stones just announced they're playing a club show tonight in Los Angeles. Tickets are set to go on sale at 12p PST.
The band's website says they'll be playing every song off "Sticky Fingers" along with other tunes. The location hasn't been announced officially yet, but every sign points to the Fonda -- including a banner DIRECTLY OUTSIDE THE FONDA.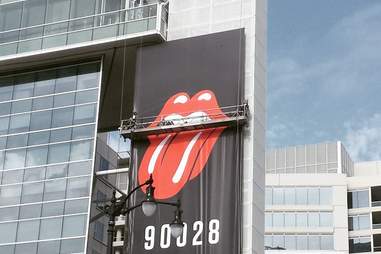 Sean Christopher Johnson
Each ticket goes for $10 -- $5 plus a $5 convenience fee. You can purchase two directly from the band's website, and they're sure to go fast. So get in front of your computer and start hitting refresh every 30 seconds starting at 11:57 like a maniac.
And use the hashtag #stickystones to brag to all your social media friends (and enemies) about the once-in-a-lifetime show.

Ryan Craggs is Thrillist's Senior News Editor. His favorite Stones song is "Tumbling Dice," followed closely by "Beast of Burden." Follow him @ryanrcraggs.