This Map Shows the Most Affordable Places Near the Metro ... Of the Future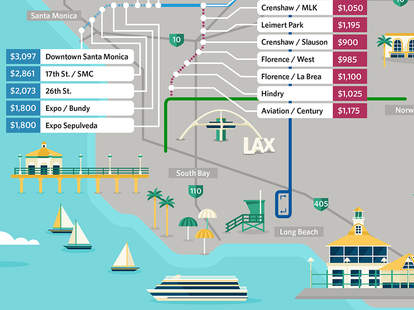 If you're sick and tired of practically living in your car thanks to LA traffic, then this new map (embedded below) from listings site RadPad could be a useful tool in helping you conquer a carless commute someday, when Metro trains will actually take you places that you actually, like, go.
With plans underway for new Metro train lines and dozens of new stops throughout the city -- uh, eventually -- RadPad plotted the new lines and stations on a map, which basically shows you what areas to start looking at for a new apartment if you want to live near the new trains, and finally -- defiantly -- say "NOOOOPE!" to that traffic. Specifically, the maps shows the new lines and extensions of existing lines along with the median rent prices this month for a 1-bedroom apartment in those areas.
Dumpling fans, pay heed: the site points to San Gabriel Valley for some of the best deals; particularly, near the future APU/Citrus College and Azuza Downtown stops, both with median rents in March of about $1,100. Oh, and if you want to live near LAX, RadPad said apartments near the future Florence/West station saw median rents of $985. But those prices might not last long, as the company anticipates the prices to rise at least 25% when the new stations are up and running. 
Obviously, the rent in some of the neighborhoods slated to get new Metro access is already pretty damn high like Westwood (about $2,500 per month) and Santa Monica (about $3,100 per month), but the prices start to fall a few stops down the new tracks, meaning you can spend less on rent and still have easy access to those parts of town.
Check out the full map below:
Courtesy of RadPad
Tony Merevick is Cities News Editor at Thrillist and is based in New York City, where living near the subway is like the most important thing in the world. Send news tips to him at tony@thrillist.com and follow him on Twitter @tonymerevick.