A Free, Enormous Slip 'N' Slide Is Coming to NYC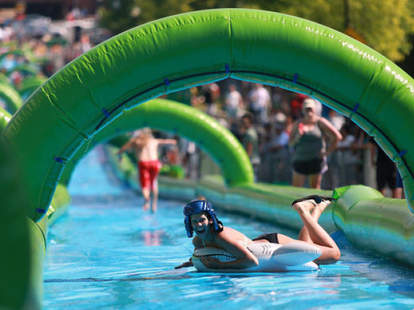 Courtesy of Slide the City
A giant Slip 'N Slide is coming to NYC this summer, and no, we're not talking about sweaty N train seats.
As part of this year's Summer Streets festivities across three weekends this August, the urban water slide masters at Slide the City will unfurl a 270ft long Slip 'N Slide in the streets near Foley Square in Lower Manhattan. It's not the 1,000ft water slide monster we were originally promised, but the wet and wild attraction will still stretch an entire city block and rides will be free, thanks to Summer Streets sponsor Vita Coco Coconut Water. Thankfully, the slide will not be covered by said coconut water. That'd be a mess.
All you have to do is register for a slot on one of the two remaining days -- August 8th, and August 15th -- and then dust off your finest bathing suit so you look your best while hurtling head-first down the slide on an inflatable tube. There will also be a misting station and seats where you can lounge under palm trees. Sure as hell beats sweating in front of your A/C unit all day.
Follow us on Facebook for a steady stream of daily NYC stories, and be the first to get all the food/drink/fun/news New York has to offer.
Tony Merevick is Cities News Editor at Thrillist and will only participate if he gets a killer whale or dolphin inflatable tube. Send news tips to news@thrillist.com and follow him on Twitter @tonymerevick.