Taste Test: McDonald's Mac & Cheese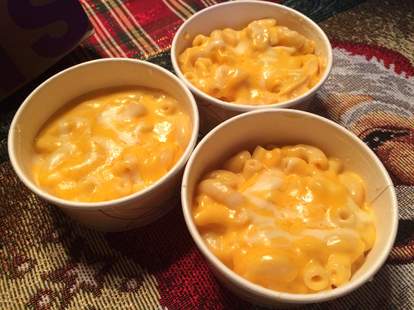 Basically every site that covers fast food is writing about the newest item McDonald's is currently testing in Cleveland: Mac & cheese. But everyone is citing a Brand Eating report and speculating about the quality.
Well, here at Thrillist, we went the extra mile (2.4 miles from my parents' house, actually) to eat it for you. And for the sake of thoroughness, we even got a 5-year-old girl and a 3-year-old boy to test the new option. Here's the scoop (or forkful, for that matter).
Tasting notes
Available as a either a Happy Meal entree option, or a la carte for $1.75, the mac & cheese comes in a fairly anonymous, 6oz paper cup with a plastic lid. There's no McDonald's branding to speak of. Once you flip the lid, inside, you discover a bit of actual cheese melted on top; it's mostly yellow, but partially white, suggesting there may be more than one cheese involved. The lunchtime shift manager said his store had been serving mac & cheese "since mid-September." It has apparently flown under the radar until now.
Before digging in myself, I asked my 5-year-old niece and her 3-year-old brother to participate in the tasting session.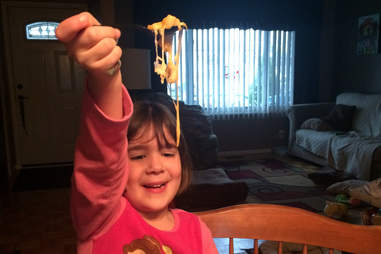 Ryan Craggs
Niece
"Oh my gosh! Look at my cheese!" my niece said as she pulled out a forkful. As you can see, it isn't straight-up cheese sauce like you'd get from making, say, Kraft Mac and Cheese. It's more like Stouffer's mac & cheese -- a reheated noodle-and-dairy concoction with slightly more substance that only falls apart once you lift it directly over your head. She got cheese in her hair for her efforts.
For the record, my niece had just gotten home from kindergarten and devoured the mac and cheese, three chicken McNuggets, and fries. She said she "liked" the mac & cheese and that it was "good."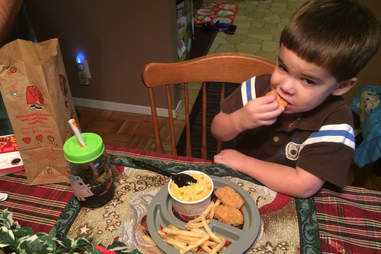 Ryan Craggs
Nephew
"It's too big!" my nephew said, meaning he needed the melded cup of noodles and cheese cut into smaller pieces. He took two bites before summarily dismissing the mac & cheese and focusing on the Chicken McNuggets and fries.
Yesterday, my nephew ate three hot dogs at dinner. He also told me "ketchup makes fries taste bad." His eating record should not be trusted at this point.
The verdict
McDonald's mac & cheese is what you expect: an adequate Happy Meal option for kids who don't like meat. If you can only convince your child into ordering grilled cheese or mac & cheese at a restaurant, well, now you've got another option at McD's. But what child doesn't eat hamburgers or McNuggets? And why are you going there despite his/her pickiness?
As for an adult: you'd need at least four or five cups to feel remotely full. In that case, you're better off ordering something meatier (or Filet-O-Fish-ier). But hey, now we've eaten it, and you might able to soon, too.

Sign up here for our daily Thrillist email, and get your fix of the best in food/drink/fun.
Ryan Craggs is Thrillist's Senior News Editor. And yes, he took all these photos on an iPhone, because he didn't expect a suburban McDonald's to be a hotbed of news today. Follow him @ryanrcraggs.