Here's How Stupidly High Rents Are Across Miami
Everyone knows it's not cheap to call Miami home, but a new map from real estate listings site Zumper gives a startling look at just how much money people are throwing away on rent across this fine city and Miami Beach.
The map (embedded below), shows a breakdown of the median asking rents for a 1-bedroom apartment in several neighborhoods, according to Zumper's rental listings data from the past few months. Unsurprisingly, higher prices live along the shoreline, about $800 to $1,000 more than inland neighborhoods, on average. But some of the area's most expensive neighborhoods included Park West ($2,625) and areas surrounding Downtown Miami ($2,000). Prices skyrocket, of course, near the oceanfront resorts of Miami Beach.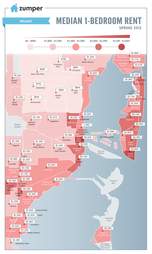 Courtesy of Zumper
Overall, the average price for a 1-bedroom in the Miami-area rental market has jumped 7.4% over the last quarter, up 1.6% in June alone, to $1,880, according to Zumper. The area is now Zumper's 6th most expensive rental market in the country, more than Seattle, Los Angeles, and Oakland, Calif.
So yeah... life's getting more expensive in Miami. But nobody moves here because they think it's cheap!
Tony Merevick is Cities News Editor at Thrillist and can only imagine what a freaking $4,800 1 bedroom apartment looks like. Send news tips to news@thrillist.com and follow him on Twitter @tonymerevick.