Mini Champagne Six-Packs Are Here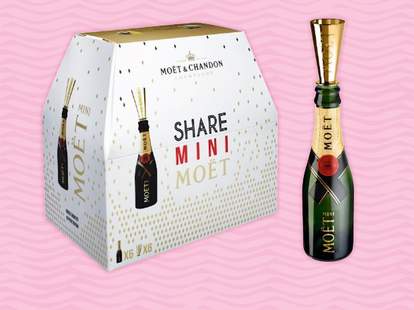 Courtesy of Moët & Chandon
Celebrate summer by popping a bottle of bubbly, and then another, and then another. Just in time for your next baller poolside gathering, Moët & Chandon have released six-packs of their famous Champagne. At $100 a (literal) pop, the Moët Mini Share Pack isn't cheap, but the boozy swerve is worth the price tag just to see your friends' faces when you drop a six-pack of mini Champagne bottles next to their six-pack of light brews.
Ridiculous as they might seem, the packs of mini Champagne bottles are actually useful for a number of reasons: Six drinkers get the joy of popping a bottle. Flat bubbly becomes a distant memory. And the Moët & Chandon bottles even come with mini gold flutes, meaning you never have to worry about packing your precious full size Champagne flutes for a trip to the beach or park.
The release, seemingly designed for social media hype, follows the flashy brand's stunt last month when they installed one of their infamous Champagne vending machines in a New Orleans restaurant. Pick up a pack if you want to get in on the Insta swagger, or do as Delish suggests and opt for some budget mini bubbly with tiny bottles of La Marca Prosecco ($6) or Freixenet Cava ($3-4). Or, if you really want to get your bubbly on the go, pick up some mini cans of Francis Coppola's Sofia ($20 for a four-pack).