Put Your Cocktail in a Box and Smoke It
There are many ways to infuse a cocktail with smoke—from lighting a slab of wood on fire and using a glass to extinguish the flame, to making ice cubes with smoker-smoked water—but none of them are really home bartender-friendly. World champion bartender Charles Joly (formerly of The Aviary in Chicago, now head of bottled cocktail company Crafthouse Cocktails) is out to change that with his new, countertop-ready Smoking Box.
The Smoking Box is part of Joly's new Crafthouse by Fortessa line of durable tools and glassware, designed for both home bartenders and professionals alike. The collection includes everything from jiggers to glassware to muddlers to, of course, the Smoking Box. Mostly curious about this last piece of equipment (we already have some ideas about how to use mixing glasses and jiggers), we caught up with Joly to learn more about what we're certain is going to be the must-have Christmas present for cocktailians this year.
Supercall: So, why include a smoking box in your barware line?
Charles Joly: The Smoking Box is a direct spinoff of a homemade smoker I built for a competition while I was working at The Aviary. I'm big into antiques and "treasure hunting," so I bought an old train case years ago to carry my bar tools to events and competitions. While trying to find a creative way to smoke cocktails, I drilled a hole in the back of it and unwittingly created version 1.0 of the smoking box. It is a really special addition to the Crafthouse barware line. It offers a unique, striking way to add visual, aromatic and flavor elements to a cocktail. It encourages you to get creative and see what new layers you can add to the cocktail experience.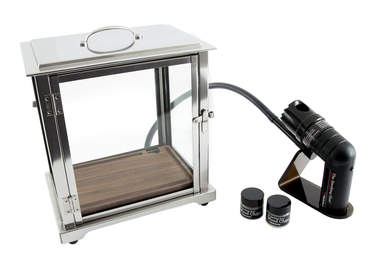 Crafthouse by Fortessa
S: How exactly does it work?
CJ: The idea is pretty simple, really. You have two main components: The box we custom designed and the smoking gun. The smoking gun is a battery powered smoker that has a chamber for whatever it is you'd like to smoke. Wood chips of varying types are the go-to, but any dried herb, spice or tea will work. A lot of the fun is in experimentation. You can also season the dried items with different oils to combine flavors.
The hose from the gun is attached to a nozzle at the bottom of the box. You have a door on each side, designed so you can reach your cocktail from either end. Place your drink inside the box, turn on the smoker, light it and you'll see the box fill with aromatic smoke. Allow the flavors to marry for a moment and open the door to retrieve it. There is a real sense of excitement as the air billows with aroma.
S: Any best practices for smoking cocktails?
CJ: When it comes to the actual smoking, less is definitely more. I recommend starting with a light smoke so you don't totally fill the box—that may look visually appealing, but you'll soon find a little goes a long way. The smoke should be a layer of flavor; it shouldn't overshadow the cocktail. A hint of oak smoke clinging to the glass while you're sipping an Old Fashioned can be a nice compliment. Be sure to keep the smoker and screen clean as well. If you start to get a burnt aroma instead of mesquite, it's time to reload.
S: Do you have some favorite cocktails to get newbies started with the tool?
CJ: Just to get people going, I suggest starting with some of the classics: Stir up a great Manhattan or Old Fashioned and add a kiss of hickory smoke. Try a Bloody Mary and really take it up a notch—make it double-smoked by first smoking your tomato juice and then the completed cocktail. Once you have the knack for it, let your imagination take hold.
The Smoking Box retails for $200 and will be available nationwide at Williams-Sonoma Fall 2016.