This Restaurant Pays a Boss 109-Year-Old Grandma to Eat Dinner on Her Birthday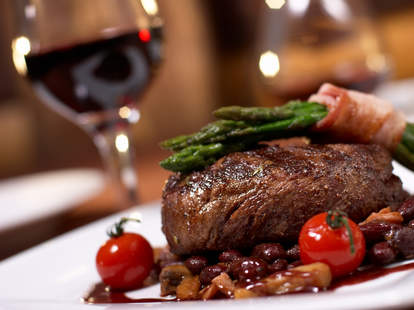 Being old has its perks, especially when a local restaurant's discount conveniently aligns with your age. Helen Self of Missoula, Montana has 109 reasons to relish the tail-end of her 11th decade on this Earth, one of which applies chiefly to free meals at her local steakhouse and casino.
Helen, who has thoroughly put in the work over her many days of living, is 109-years-old. She frequents The Montana Club, which bills itself as "Missoula's premiere hometown restaurant." Adding to the ultra-American allure of this restaurant, is an intriguing birthday discount offer: Customers eating on their special day get a discount reflecting their age. So in other words, Helen Self got 109% off her dinner on the day she turned 109. 
She's a fixture in her community, too. Here she is at a local government event last year:
Helen was born in 1909, and lived through every great epochal event in both the 20th and 21st centuries. She probably remembers not only the New Deal, but what it was like living through the Great Depression. Needless to say she took it upon herself to use the 109% discount, and actually got paid for to eat her meal. The Montana Club deserves credit for holding up its end of the bargain. 
ABC Fox Montana reports that Helen showed up with a group of family and friends for the celebration. In fact, the enterprising centenarian has been making good use of the discount since her 101st birthday. She thoroughly knows how to sniff out a deal. 
"Once she turned 101 she informed me that I had to come in and pay her for her meal," Montana Club owner, Nick Alonzo said.
Younger generations should try their best to emulate Helen's impeccable understanding of math.
h/tThe Takeout
Sign up here for our daily Thrillist email and subscribe here for our YouTube channel to get your fix of the best in food/drink/fun.
 
Sam Blum is a News Staff Writer for Thrillist. He's also a martial arts and music nerd who appreciates a fine sandwich and cute dogs. Find his clips in The Guardian, Rolling Stone, The A.V. Club and Esquire. He's on Twitter @Blumnessmonster.