11 Pieces of Trump Merchandise, Reviewed for Quality
We recently bought some merchandise from DonaldJTrump.com, which is the website of Donald John Trump, who is an American human running for president of the United States, an office whose occupant is commonly referred to as "the most powerful man in the free world."
This is not a review of Donald John Trump, American human running for president. This is a review of his campaign's official merchandise, some of which we recently bought. These observations will not assist you in selecting a candidate for whom to cast your vote, but it is our sincere hope that they assist you in choosing which dry goods, apparel, and knickknacks to purchase from DonaldJTrump.com. If any.
OK. Let's take a look.
Price: $25
True to photo: Yes
Irony factor: High
Trumps: Seven
This is a six-panel cap in the baseball style. It has an adjustable back closure and a large brim. If it's cloudy out, the brim is probably a sufficient sun shield; however, if it is not cloudy, or even sunny, I recommend pairing this cap with sunglasses. At press time, DonaldJTrump.com was not offering sunglasses for sale.
Worth it? Sure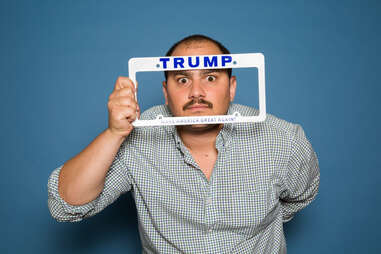 Price: $30
True to photo: Yes
Irony factor: N/A
Trumps: Niner
Shaped like a standard American license plate, each frame is forged of injection-mold plastic with slightly raised type. That's all I have to say about that.
Worth it?: No
Price: $12.50
True to photo: No
Irony factor: Rock bottom
Trumps: Four score and seven
On DonaldJTrump.com, these are depicted as two poms, each with red and white garland. This is a lie. We received two poms, one with all-white garland and one with all-red garland. This wasn't a big deal to me, but it might be to you, though I cannot imagine why.
Worth it?: I mean... what are you going to do with these, really?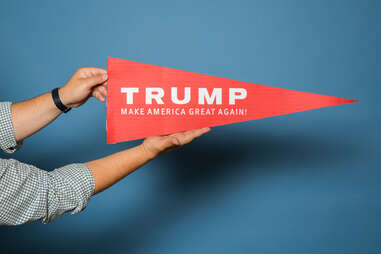 Price: $8
True to photo: No
Irony factor: Minimal
Trumps: Three-stone
The quality of this pennant is very poor. It seems to be made from the top layer of a rental car's upholstery. Should you choose to purchase the item, you should note that assembly is required (i.e. you will have to insert the wooden dowel into this synthetic excuse for a flag).
Worth it?: Definitely not
Price: $20
True to photo: Yes
Irony factor: High
Trumps: 3/2
Hewn from a fine corrugated cardboard and shellacked with some sort of water-repellent finish, these signs fit sturdily upon metal stakes that you can plant into the ground of your yard. If you don't have a yard, you can probably just display the signs without the stakes, though this is not recommended.
Worth it?: Upon review of our packing list, we didn't actually order these -- they just showed up in the box. So, for us, they were free, and therefore definitely worth it.
Price: $18
True to photo: Yes
Irony factor: Extreme
Trumps: A wide future full of them
I don't spent much time measuring babies, but this jumper's dimensions seem more or less accurate. I believe it would house a small child without issue. Complete with a butt flap for surreptitious defecation, this is a three-season garment worthy of most babies.
Worth it?: Seems like a steal, really

Price: $5
True to photo: Yes
Irony factor: Low
Trumps: A1
Rectangular and sticky on one side, these are definitely bumper stickers. I question the wisdom of administering these items to an actual vehicle, as the adhesive could negatively affect the paint job. However, cars are notoriously vessels of financial depreciation, and I am not your dad, so do you.
Worth it?: Whatever
Conclusion
Despite a few standout products, the merchandise we purchased from DonaldJTrump.com was of disappointing quality and generally overpriced. It is the belief of this writer and the majority of the Thrillist editorial team that there are better websites through which to purchase your soft goods, apparel, and knickknackery. However, there are also probably worse websites through which to purchase these things. It should be noted that shipping took a remarkably long time for our order.
Election Day is Tuesday, November 8th, 2016. There's no telling whether Donald John Trump will still be a factor in the race for the presidency by that point, or whether his website will still be selling this (or any) merchandise.
This concludes our straightforward review of merchandise available on DonaldJTrump.com, Donald John Trump's website.
Sign up here for our daily Thrillist email, and get your fix of the best in food/drink/fun.
Dave Infante is a senior writer for Thrillist. Follow @dinfontay on Twitter, Instagram, and Facebook.