McDonald's and Burger King Battle Over Breakfast With Competing 2 for $4 Deals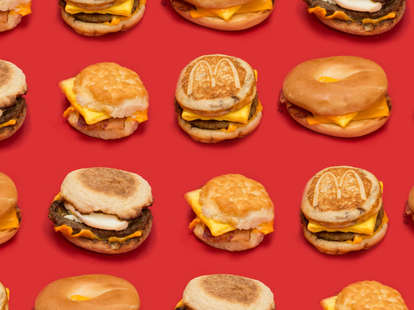 Cole Saladino/Thrillist
Cole Saladino/Thrillist
The expanded breakfast menus at fast food chains has definitely opened the door for more competition. There are McGriddles and loaded croissant sandwiches to choose from, a Breakfast Crunchwrap filled with a tater tot patty, and even a Breakfast Baconator. With all these breakfast advancements, we're excited when we can get a couple of egg-cheese-and-meat-filled sandwiches for a steal.
Right now, both McDonald's and Burger King are offering competing 2 for $4 deals on breakfast sandwiches. The McDonald's deal will get you two of the following sandwiches for $4:
Sausage McMuffin with Egg
Bacon, Egg & Cheese Biscuit
Bacon, Egg & Cheese McGriddles
If you're really feeling that pancake bread, you could always double up on a certain type of sandwich as well.
Burger King also has its own breakfast sandwich deal. The royal burger slinger is also running a 2 for $4 deal that only includes its breakfast Croissan'wich, though you get to choose your protein. The options are sausage, bacon, or ham. If you're particularly hungry and want to double up on the meat, Burger King has a 2 for $5 sandwich deal where you'll get double the sausage patties, bacon, or ham.
McDonald's serves breakfast all day so feel free to take advantage of this offer in the middle of the night if you must. Burger King, however, cuts off breakfast at 10:30am, so be sure to get your sandwiches earlier in the day.
Sign up here for our daily Thrillist email and subscribe here for our YouTube channel to get your fix of the best in food/drink/fun.
Kat Thompson is a staff writer at Thrillist. Follow her on Twitter @katthompsonn.