Everything You Need to Know to Watch Figure Skating at the 2018 Winter Olympics
If there's one Winter Olympics sport you're looking forward to watching when the 2018 Winter Olympics in PyeongChang begin this week, it's probably figure skating. Seeing some of the world's top athletes glide across the ice, jump feet into the air, spin multiple times, and somehow manage to gracefully land right into their next moves is always compelling -- especially when your best skating move is sliding across the ice on your ass. But what exactly should you look out for while watching this year's figure skating events?
Between the rules and the often contentious scoring system, it's easy to feel overwhelmed when watching the spectacle unfold on the ice. That's why we set out to break down the basics for you, so you can comfortably watch the events without having to pause and Google everything as you go. Oh, and so you can yell at your TV when a judge or a commentator makes a bad call, of course.
What is figure skating?
Figure skating isn't just a more advanced version of the flailing you typically see on community ice rinks. In addition to being highly technical, it is -- much like dancing -- an art. Professional figure skating is highly competitive all across the globe, often controversial, and a beautiful wonder to behold in all of its various formats or disciplines. With that said, it's no wonder why figure skating is arguably the most anticipated sport at the Winter Olympics every four years.
Figure skating, as we know it, has been around for the good part of two centuries. Jackson Haines, an American ballet dancer, is credited with creating modern figure skating after he brought his dancing techniques to the ice, according to an extensive report explaining the sport by The Washington Post. Since then, figure skating has grown and evolved into a popular sport all around the world and, of course, at the Olympics.
In fact, figure skating was first played at the Olympics on indoor rinks at the 1908 Summer Olympics in London, meaning the sport has been part of the Olympics -- on and off and in some form or another -- for 110 years as of the PyeongChang Games. The Olympics officially moved figure skating events from the Summer Games to the Winter Games in 1924.
In the intervening time period since the first blades hit Olympic ice, the United States and Russia have dominated the sport at the Games as fierce rivals. To date, the US has won 51 figure skating medals, while Russia/The Soviet Union has won 49, per WaPo the report. While the Russian team made significant advances (five medals, including three gold) on home ice at the 2014 Winter Olympics in Sochi, it remains to be seen how the two superpowers perform at PyeongChang.
How does figure skating scoring work -- in layman's terms?
As we go on to explain -- in borderline overwhelming detail -- below, figure skating scoring is extremely complicated. Unfortunately, it's not as simple as gaining points by landing great jumps and losing points for every fall. But that doesn't mean you can't enjoy the skaters' performances if you don't understand how the scoring system works. In fact, that could very well be one of the best ways to watch figure skating at the Olympics: focus on the beauty and skill demonstrated during each performance and don't worry about the details.
"What I would recommend is to sit back, watch the skating, enjoy it, and see how you would rank [the skaters] just from a layperson's perspective," Janet Tremer, a board member of the Professional Skaters Association (PSA), said in a recent phone interview. "What did you enjoy? Who seemed vertical most of the time? Did you enjoy it as a performance? And if you did, then they probably did things that were simpler than the other skaters or they did their difficult things really well."
Tremer said the casual figure skating viewer can almost always pick out the top and bottom skaters after watching an event. However, it can get a little less clear from there.
"You can pretty much pick the top and the bottom, and it's the middle that's always challenging for a layperson to figure out -- the nuances of why someone beat somebody else," she said.
In addition to using your own eyes, you can also lean on the commentators, NBC Analysts Tara Lipinski and Johnny Weir, for some expertise in the moment.
How does figure skating scoring work? The complicated version.
Critics of figure skating scoring have long accused the system of being subjective, and therefore, rampant with bias. This has led to the occasional controversy over the years, including a judging scandal at the 2002 Winter Olympics in Salt Lake City that prompted sports officials to finally change the scoring system to be more objective. This resulted in today's ISU Judging System. The system was created by the International Skating Union (ISU), the sport's governing body, and was implemented in 2004. While it's designed to be more objective and less vulnerable to abuse than the previous scoring system, some in the sport still feel that it allows a degree of bias among judges.
As for how skaters earn points, well, that's also kind of complicated. In addition to receiving points for their overall presentation and artistry during each event, figure skaters are awarded points for each of their step sequences, jumps, and spins. Skaters can earn points and they can lose points, via deductions. A fall will result in an automatic one-point deduction, for example. Skaters in the singles events can, of course, make up for blunders by earning bonus points for every jump they execute during the second half of their programs. Got all of that? It only gets more confusing from here, unfortunately.
More specifically, there are two components when it comes to figure skating scoring: the Technical Elements Score (TES), based on the execution of technical elements, and the Program Component Score (PCS), based on the artistry of the overall program. Both are evaluated by a nine-person panel of judges along with a three-person technical committee, according to a breakdown provided by NBC Olympics.
The TES is the sum of a skater's element scores. The technical committee gives these scores by quickly and correctly identifying the skaters' moves and verifying both the level of difficulty for each move and whether they're fully completed or landed short. As for the nine judges, they rate the execution of each element of the skaters' programs with a -3 or +3 grade of execution, or GOE, to the element's base value (the base values are predetermined). For each element, the highest and lowest of the nine GOE scores are dropped and the seven remaining scores are averaged. The judges take the base value of each element and add (or subtract) the GOE they gave them to come up with the final TES, per the NBC Olympics summary. Confused yet?
The same nine judges also determine the PCS by rating skaters' overall performance in five areas -- skating skills, transitions, performance, composition, and interpretation -- worth a maximum of 10 points each. A 1 is considered really bad, a 5 is considered average, and a 10 is considered outstanding. These scores are averaged for each component, then they're hit with a multiplier that varies by event (it's complicated, remember). You can find the full list of multiplying factors here. To get the final PCS, the judges round the factored scores to decimal places, then add them.
Finally, the officials take the TES and the PCS and combine them to make Total Segment Score (TSS). This is also when skaters are dinged with deductions for any falls or other issues. At this point, you'd think they'd be a handing out gold medals for math, too.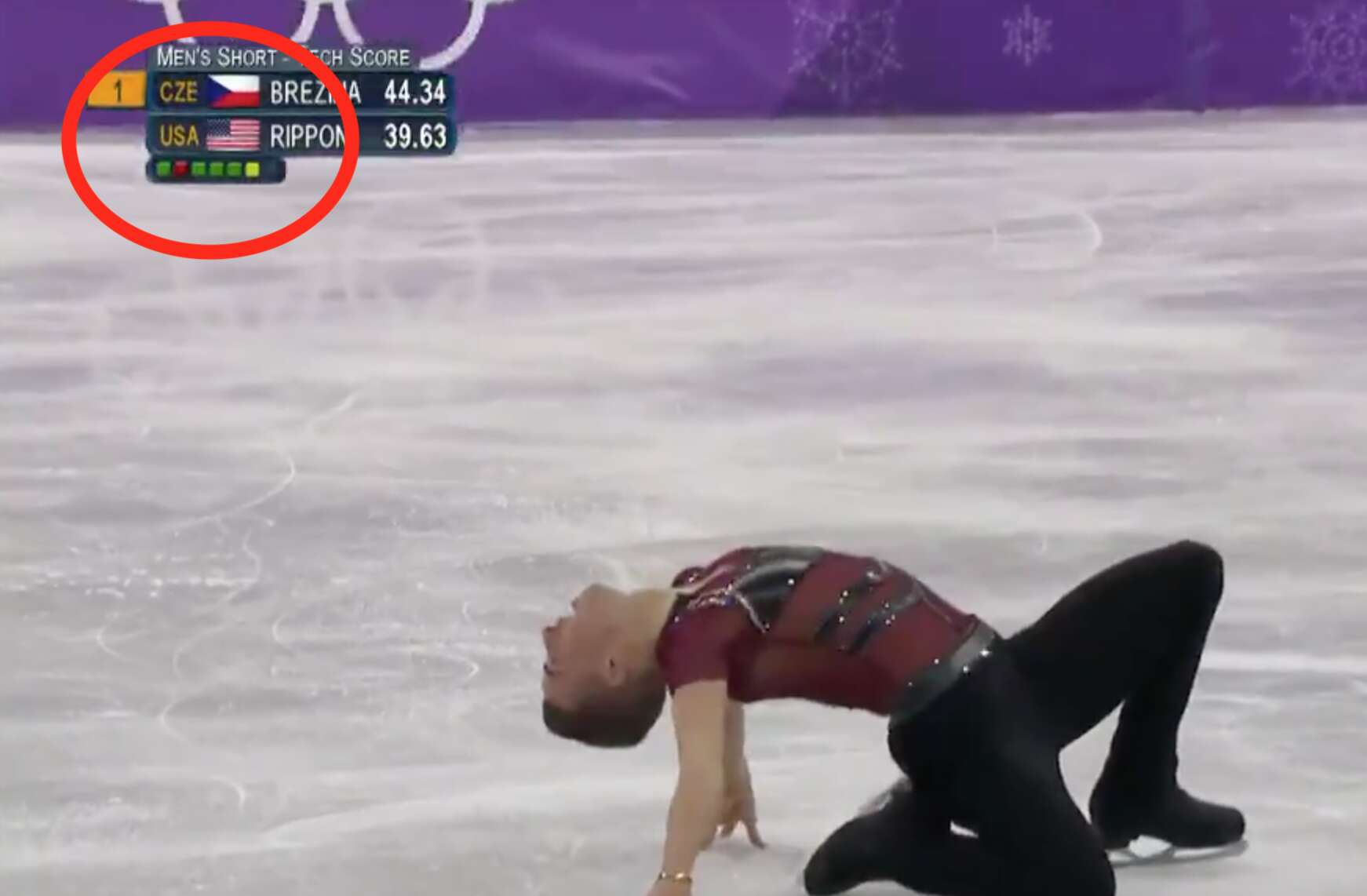 What do the little green and red scoring boxes mean?
Although the entire figure skating scoring process unfolds behind the scenes during each performance, NBC's broadcast of the events includes a helpful scoring box in the top left corner of the screen that sheds some light on how a skater is doing. It's the least they can do to make it a little less baffling. But even the scoring box needs a bit of explaining.
Basically, the scoring box gives you a real-time view of the skater's Technical Elements Score as they perform each of the elements in their program (TES). Each skater submits the planned elements for their skate ahead of time, and each gray box you see before they begin represents a technical element they intend to execute.
Of course, the technical judges have a good eye for how well a move was pulled off. If the skater successfully completes an element, the box will turn green. If the skater failed to pull it off, it'll turn red. A yellow box indicates that the judges aren't quite sure and will need to review it again. By the end of the skate, any yellow boxes will flip to either green or red based on the further review.
The scoring box will also show the sum of technical points earned throughout the skate, usually a double- or triple-digit number with some decimal points. Again, these points are based on predetermined values assigned to each element and how well the skater pulls them off.
What are the figure skating rules?
Thankfully, figure skating rules are more straightforward than the scoring system. The simplest rule: All figure skaters must have turned 15 years-old before July 1, 2017 to be eligible for the PyeongChang Games.
Notably, the PyeongChang Games are the first to allow figure skaters to use music with lyrics for their programs, a new rule that was first introduced during the 2014-2015 figure skating season. Prior to that, ice dancers were allowed to use songs with lyrics. With that said, keep an ear out for the difference for the first time at the Olympics.
General rules: all of the short programs -- ladies, mens, and pairs -- may last as long as two minutes and 50 seconds. The ladies free skate is permitted to last between 3:50 and 4:10 while the mens free skate lasts between 4:20 and 4:40. Meanwhile, the pars skate also last somewhere between 4:20 and 4:40.
The rules are a bit different for the ice short dance. It lasts between two minutes, 40 seconds and three minutes and skaters must adhere to the genre of music determined by the ISU.
"For the Olympic season, the short dance must use music with a Rhumba rhythm plus any number of the following Latin American dance rhythms: samba, mambo, meringue, salsa, bachata and any closely related Latin American or Caribbean rhythms," according to NBC Olympics.
While the free dance event (between 3:50 and 4:10 in length) doesn't have a music genre requirement, the rules demand that skaters arrange their music selection to create an "interesting, colorful, entertaining dance program with difference dance moods or a building effect."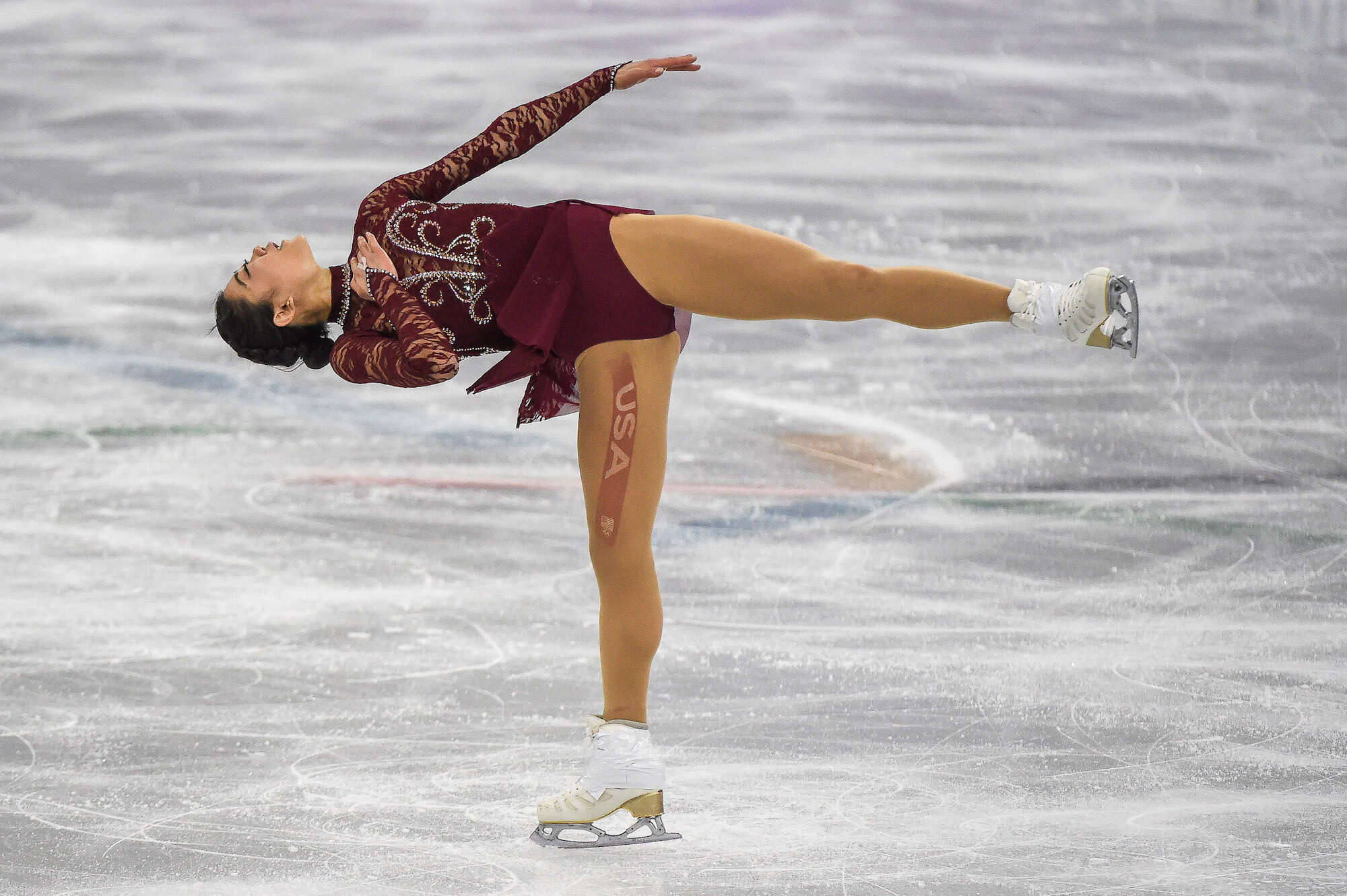 The 2018 Winter Olympics figure skating schedule
Below are broadcast times for all figure skating events in Eastern Time on NBC. By the way, here's how to watch the Olympics on TV and streaming services.
February 8
Men's Short Program (Team Event) - 8pm
Pair's Short Program (Team Event) - 9:45pm
February 10
Short Dance (Team Event) - 8pm
Ladies' Short Program (Team Event) - 9:45pm
Pairs' Free Skate (Team Event) - 11:40pm
February 11
Men's Free Skate (Team Event) - 8pm
Ladies' Free Skate (Team Event) - 9:10pm
Free Dance (Team Event) - 10:20pm
February 13
Pairs Short Program - 8pm
February 14
Pairs Free Skate - 8:30pm
February 15
Men's Short Program - 8pm
February 16
February 18
Short Dance (Ice Dance) - 8pm
February 19
Free Dance (Ice Dance) - 8pm
February 20
Ladies' Short Program - 8pm
February 22
Nathan Chen, Yuzuru Hanyu, Adam Rippon, and other skaters to look out for
In ladies' competition, many count Evgenia Medvedeva from Russia (listed as an Olympic Athlete from Russia) as the favorite. She's won every competition she's been in since 2015 up until this year's European Championships when she was beaten by training partner Alina Zagitova, a 15-year-old Russian. Canadians Kaetlyn Osmond and Gabrielle Daleman are also contenders to medal. The 20-year-old American Bradie Tennell surprised many when she beat US veterans Ashley Wagner and Mirai Nagasu to win the 2018 US Figure Skating Championships. If she manages to medal, she'd be the first American to win a ladies figure skating medal since 2006.
On the men's side, two-time defending US champion Nathan Chen is touted as Team USA's best chance at gold. Adam Rippon and Vincent Zhou are also expected to be top-10 performers for the US. Many count Japan's Yuzuru Hanyu as the favorite. He is known for an ability to combine powerful quad jumps with top-tier artistry. His countryman Shoma Uno will be one of his top challengers.
In pairs, the only Americans to qualify are married duo Alexa Scimeca Knierim and Chris Knierim. They're expected to finish well but aren't considered a favorite. China's Wenjing Sui and Cong Han have been dominant since Sui came back from foot surgery (and had to learn how to walk again before skating). The only defeat they've taken was at the hands of Germany's Aljona Savchenko and Bruno Massot, who set a new world record score in that victory.
The Ice Dance competition is expected to be a competition between France's Gabriella Papadakis and Guillaume Cizeron and Canada's Tessa Virtue and Scott Moir. No pair other than the French has topped 200 points in competition. They've done it four times. The US qualified three pairs who are trying to climb the ranks. Those duos are Madison Chock and Evan Bates, Madison Hubbell and Zach Donohue, and Maia and Alex Shibutani (also known as the #ShibSibs on social media).
Sign up here for our daily Thrillist email and subscribe here for our YouTube channel to get your fix of the best in food/drink/fun.


Tony Merevick is Senior News Editor at Thrillist and is most excited for the figure skating events. Send news tips to news@thrillist.com and follow him on Twitter @tonymerevick.