Merriam-Webster's Word of the Year for 2018 Could Not Be More Fitting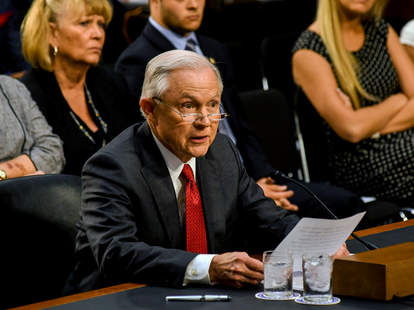 Considering the wild pace of breaking news and general day-to-day insanity over the last year, it's impossible to pin down any one word that might sum up the madness of it all. However, the folks at Merriam-Webster tasked themselves with determining one no matter what, and this year, their pick could not be more perfect. Behold, the word of the year for 2018: justice.
Merriam-Webster, which has been making dictionaries and reference books since 1828, just revealed "justice" as the word of the year for 2018. It's not hard to see how fitting the selection is amidst the backdrop of controversy over the last 12 months, and especially in recent weeks. As it has done since 2003, the company selected a term that saw a huge surge in searches during the last year, though ultimately "justice" took the prize thanks to a public poll on its website. As you may recall, 2017's word of the year was "feminism."
"Justice" was on lots of people's minds this year, considering it was looked up 74% more often than it was in 2017, which makes sense when you look back on all the justice-related stories that were in the national spotlight in 2018.
"This year's news had many stories involving the division within the executive branch of government responsible for the enforcement of laws: the Department of Justice, sometimes referred to simply as 'Justice,'" Merriam-Webster said in a blog post about the words of the year. "Of course, the Mueller investigation itself is constantly in the news, and is being carried out through the Justice Department. Another big news story included yet another meaning of the word justice, as a synonym or title for 'judge,' used frequently during the Kavanaugh confirmation hearings for the Supreme Court."
Plenty of other words were under consideration for the title, many of which you probably heard or thought about at least a couple times in 2018. Here are the 10 runners-up, according to Merriam-Webster's stats and public poll.
10. Excelsior
9. Maverick
8. Respect
7. Pissant
6. Laurel
5. Feckless
4. Epiphany
3. Lodestar
2. Pansexual
1. Nationalism
And sure, "justice" seems like an apt choice, but then again so is the word Japan selected for 2018: "disaster." 
h/tMashable
Sign up here for our daily Thrillist email and subscribe here for our YouTube channel to get your fix of the best in food/drink/fun.