Everywhere You Can Get Free & Cheap Food for 4/20
A cloud of food deals is blowing in on April 20.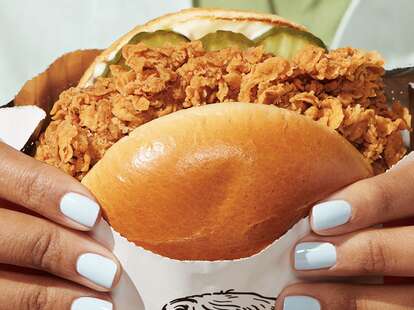 Photo courtesy of KFC
Photo courtesy of KFC
In many ways, 4/20 feels like an unnecessary holiday. People who want to celebrate weed are going to celebrate weed whenever they want. No holiday required.
At the same time, it's a good excuse to attend a get-together or dig up deals on the kind of stuff you might have been planning to get anyhow. As the recreational use of weed continues to become legal in an increasing number of states, restaurants and fast food chains are embracing the holiday with ever-more fervor. It can be a little cringe-y at times, but, in the end, even if you have to endure brand social media posts that make you think of the "hello fellow kids" meme, you might wind up with a burrito on the house. So, it's probably worth it. On 4/20 this year, you're going to find discounts from chains like KFC, Pollo Campero, Krispy Kreme, Del Taco, and others.
Here are the best food deals you're going to find on 4/20.
Free Food on 4/20
Carl's Jr. & Hardee's
The deal: Join the newly-launched rewards program to get your choice of a free Western Bacon Cheeseburger, Famous Star, or Hand-Breaded Chicken Sandwich.
When: Ongoing
KFC
The deal: Get a free KFC Chicken Sandwich with a purchase of at least $12 through the KFC mobile app.
When: Through June 5
Moe's Southwest Grill
The deal: If you're a rewards member, you can get a buy-one-get-one-free deal on the new Spicy Chicken at Moe's.
When: Through May 29
Friendly's
The deal: Try any of the 12 new items on the menu and you'll get a free medium sundae. That new slate includes the Jammed-Up Burger, Doritos Cool Ranched Chopped Cheese Burger (!?), Tex-Mex Alfredo Pasta, and more.
When: Through April 30
The Pie Hole
The deal: Make a purchase and get a free Pie Hole Blend drip or iced coffee. The free cup of morning brown is running from Tax Day to Earth Day, but you'll need to bring your own tumbler or mug. Waste not, want not.
When: Through April 22
Pollo Campero
The deal: To celebrate its 51st birthday, Pollo Campero is dropping new deals every week in April. This week, you can tack on an extra piece of chicken to any meal with the code "CRAVE."
When: April 19-25
Más Veggies Vegan Taqueria
The deal: The ghost kitchen offers free chips and salsa on any order of at least $10 when you order for pick-up. Though, that's not valid when ordering through third-party delivery services.
When: Ongoing
Food Deals on 4/20
Krispy Kreme
The deal: Every Wednesday, Krispy Kreme will sell a dozen donuts for the same price as a gallon of gas. The price will be dictated by the national average on the Monday before the Wednesday, and you can grab up to two dozen donuts at that price.
When: Wednesdays through May 4
Del Taco
The deal: Del Yeah! Rewards members get five Chicken Cheddar Rollers for $4.20.
When: April 20
Smashburger
The deal: Gather some friends (or show up alone and hungry) and grab four burgers for $20.
When: April 20
Sonic Drive-In
The deal: Try the new Bacon on Bacon Quarter Pound Double Cheeseburger for $4.99 through May 1.
When: Through May 1
TGI Fridays
The deal: Get $4 off an order of at least $20 through Uber Eats.
When: April 20
Carl's Jr. and Hardee's
The deal: The newly-launched rewards program will offer double points (the chains call them "Stars") when you sign up (and take advantage of a free sandwich in there while you're at it).
When: Through May 17
Chili's
The deal: The Marg of the Month at Chili's is the Straw-Eddy 'Rita. For $5, you can grab one with Deep Eddy Lemon Vodka, Lunazul Blanco Tequila, strawberry puree, and sour.
When: Through April 30
Fatburger
The deal: Get an Original Fatburger for $4.20.
When: April 20
STK Steakhouse
The deal: Happy hour at STK can land you specialty cocktails and apps for $3, $6, and $9.
When: Monday to Friday, 3-6:30 pm
Chuck E. Cheese
The deal: Grab a Spring Family Fun Pack, which comes with two large one-topping pizzas, one Unicorn Cotton Candy, a good bag, an activity sheet, and 250 E-Ticket vouchers for $35. It's only available for takeout or delivery.
When: Through April 24
Denny's
The deal: The Endless Breakfast promo is around for a couple of months with a plate that includes pancakes, scrambled eggs, and hashbrowns for $7.
When: Through June 21
Fleming's Steakhouse
The deal: Spend $100 on a gift card, and Fleming's will pass along a bonus card worth $20.
When: April 19 - June 19
Somos
The deal: All of its meal kits, including the Cinco de Mayo Kit, will be half-off through Cinco de Mayo.
When: Through May 5
Free Food Delivery on 4/20
Fatburger
The deal: Get free delivery on any order of at least $20 through the Fatburger site.
When: Through April 30
Local Deals on 4/20
Billy's on the Beach - Newport Beach, California
The deal: The revamped happy hour includes an $8 island-inspired cocktail or wine, as well as apps like Billy's Grilled Sausage Platter, Kahlua Pulled Pork Slider, Chicken Skewers, and Chowder Fries
When: Tuesday through Sunday, from 3-6 pm
STōK Cold Brew Coffee and DK's Donuts - Santa Monica, California
The deal: Since 4/20 and National Cold Brew Coffee Day land on the same day, they're teaming up with LA's DK's Donuts for the Donuts Awake & Bake Combo. The first 420 customers at the store and the first 100 who order online get a perk. In-store, you get a free STōK cold brew coffee and one STōK-infused donut. Online, you get two coupons for a multi-serve bottle of cold brew and a dozen STōK-infused donuts.
When: April 20