Wendy's Frosties Are Going to Be Super Cheap for the Rest of the Summer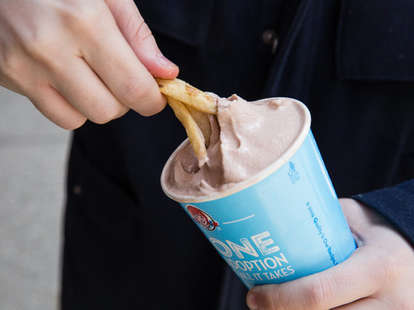 Cole Saladino/Thrillist
Cole Saladino/Thrillist
A Frosty on a hot summer is a delight worthy of a power ballad. (There are tons of ridiculous odes to food. What's one more?) For the rest of the summer, Frostys are going to be even easier to get your sweat-soaked palms wrapped around.
Wendy's has announced Frostys are now just 50 cents instead of the usual dollar (at most locations). That's just two quarters. Check the bottom of your computer bag, between the couch cushions, or under the driver's seat in your car and you're moments from Frosty-town. Or, even better, from dipping salty fries into a chocolate Frosty.
The deal is good on a small Frosty and is valid through the rest of the summer for both vanilla and chocolate flavors, according to Brand Eating. The company has not announced an end date for the promotion at this point.
That's damn good news, even if you are within arm's reach of something arguably more exciting like a churro ice cream sandwich or a watermelon stuffed with soft serve. Long live super cheap Frostys.
Sign up here for our daily Thrillist email, and get your fix of the best in food/drink/fun.
Dustin Nelson is a News Writer with Thrillist. He holds a Guinness World Record but has never met the fingernail lady. Follow him @dlukenelson.