A 69-Year-Old DJ/Guru Is Trying to Lower His Legal Age to Increase His Tinder Odds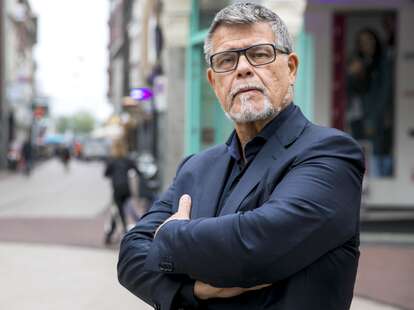 ROLAND HEITINK/AFP/Getty Images
No one finds Tinder to be representative of the finest cut of the global male population. But in a sea of utterly sub-par candidates, there are few profiles quite so unappealing as one that reads "positivity guru, sometimes DJ, young god," in earnest.
Well, this is a real profile, and it belongs to Dutchman, Emile Ratelband. And right now, he's in the midst of a legal battle with the Netherlands to formally change his actual age from 69 to 49, in the interest of increasing his romantic odds on Tinder.
Yes, really.
If all goes according to plan, Ratelband would like to have his birthday moved from March 11,1949 to March 11, 1969. "When I'm on Tinder and it says I'm 69, I don't get an answer," he told the court, in all seriousness. "When I'm 49, with the face I have, I will be in a luxurious position." He then went on to explain that his doctors had said he was (blessedly) in possession of the body of a 45-year-old. "I'm a young god," he said matter-of-factly, which is really more of an opinion, and has no bearing on the fact that he was born in 1949.
Ratelband is making his claim on the grounds that he feels 49 and thus should be treated as such in some formal capacity. By the same token, I can feel like a princess without suing the government for failing to provide me with a tiara and subjects to rule over. Still, Ratelband points out that his desire to embody youth is not so different from the wants and needs of trans people hoping to legally change their sex markers. These two scenarios are, of course, far, far, far from the same and his argument is frankly offensive. According to the Dutch newspaper Algemeen Dagblad, the court is skeptical of Ratelband's case. There is obviously no legal precedent.
"I don't want to lie," he told the The Washington Post when asked why he didn't just fudge the number on his dating profile like everyone else. "If you lie, you have to remember everything you say." In the grand scheme of ethics, this is not great motivation for honesty. But then again, this comes from the same guy who went to court to increase his Tinder odds while also maintaining a website that says he has seven kids, and a "steady relationship with the woman of his dreams."
Ok then, 2018. Thank you, next.
Sign up here for our daily Thrillist email and subscribe here for our YouTube channel to get your fix of the best in food/drink/fun.