Get a Massive Bucket, 7-Eleven's 'Bring Your Own Cup' Slurpee Promo Is Back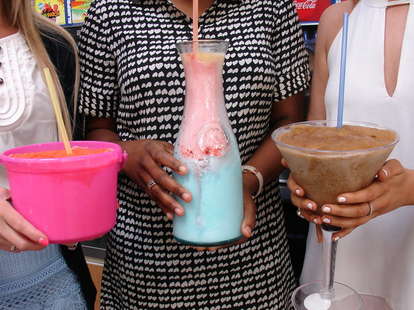 This is a public service announcement. Black Friday can be dangerous. You have to look out for people swinging purses and pushy people upset about how their team fared on Thanksgiving. Unfortunately, it's going to be a whole lot worse this year as 7-Eleven is going to hook up ruthless shoppers with an intense sugar high.
The convenience chain's Bring Your Own Cup Day is back. If you're not familiar with it, you've probably never guzzled a Slurpee out of a boot. Anyone can bring their own "cup" into 7-Eleven on November 23 between 11am and 7pm to fill 'er up with as much Slurpee as the container can hold for $1.49. It doesn't matter how big your cup is, the price is still $1.49. That means you can bring a coffee cup or thermos and take it with you. It also means you can bring a giant flowerpot, an old acoustic guitar, or an empty bureau drawer.
It's the wild west of frozen sugary drinks. There are no rules to the day... except for, you know, these rules: Your container must be leak-proof, safe, sanitary, and able to fit inside the "in-store BYOC display cutout, which is about 10 inches in diameter," 7-Eleven writes in its announcement. That means you need to rethink tying off the legs of those huge second-hand pants you were going to fill with Slurpee. It was a good impulse, but it's not going to work.
While you're there, if you're a 7Rewards member, you can get a slice of pizza for 50 cents. These deals prove that Black Friday discounts aren't just for "as seen on TV" products. Now go get sugared up and buy something you don't need.
Sign up here for our daily Thrillist email and subscribe here for our YouTube channel to get your fix of the best in food/drink/fun.