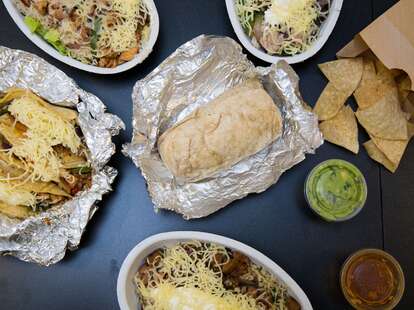 Laura Murray/Thrillist
Laura Murray/Thrillist
As Chipotle continues to grapple with the fallout from a recent and mysterious E. coli outbreak affecting 52 people in nine states, the ubiquitous burrito chain is now facing a fresh string of serious illnesses -- this time linked to one of its restaurants in Boston. But this new outbreak may have been caused by norovirus, not E. coli, according to a spokesman for the company.
"There are no confirmed cases of E. coli connected to Chipotle in Massachusetts," the spokesman, Chris Arnold, said via email. "The theory at this point is that it's a norovirus. That seems consistent with the pattern."
The Chipotle restaurant, located in Boston's Cleveland Circle, was shut down after several dozen students, including members of the men's basketball team from nearby Boston College, reported symptoms like vomiting and diarrhea. By Tuesday, officials at the school said at least 80 students had been sickened, according to a report by CBS News.
"All 80 students have confirmed that they ate at the Chipotle Restaurant in Cleveland Circle (Boston) during the weekend," Boston College said in a statement to CBS. "All have been tested for both E.Coli and the norovirus. Test results will not be available for at least two days."
The rash of illnesses come just days after Chipotle announced a commitment to become an "industry leader" in food safety, and Chipotle maintains there's currently no indication the outbreak was caused by a food item.
"To my knowledge, [health officials] have not linked any food item to this, and there may well not be a single ingredient that is the cause," Arnold said. "If this is a norovirus, as is the speculation, those are spread very easily and can be passed through person-to-person contact, surfaces, or food or dink. Because they spread so easily, norovirus is the leading cause of gastroenteritis in the US, with some 20 million cases annually, according to CDC."
However, officials at the Massachusetts Public Health Department have so far declined to speculate on what could have caused the new outbreak, according to a report by ABC News. Thrillist has contacted the agency for further details.
Late last week, the Centers for Disease Control & Prevention (CDC) issued an update to its investigation of the E. coli outbreak, saying a total of 52 people across nine states had been sickened after eating at Chipotle restaurants in late October early November, but that health officials still haven't pinpointed the exact food item that made people sick. The E. coli cases prompted Chipotle to close 43 stores in the Pacific Northwest, and soon reopened the locations alongside a complete overhaul of its food safety measures.
Symptoms of norovirus include things like nausea, vomiting, diarrhea, muscle pain, and cramps, so if you're feeling more than just bloating after that burrito, you might want to see a doctor.
Sign up here for our daily Thrillist email, and get your fix of the best in food/drink/fun.
Tony Merevick is Cities News Editor at Thrillist and could actually really go for a burrito right now. Send news tips to news@thrillist.com and follow him on Twitter @tonymerevick.