A&W's New Beyond Burger Is Now on the Menu Nationwide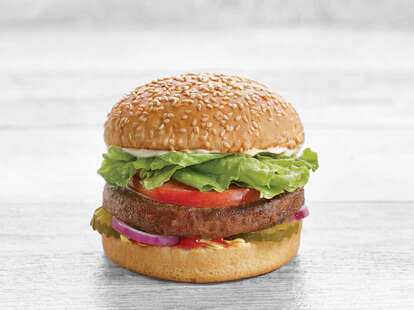 A&W, like many fast food chains before it, is now fully backing a plant-based burger option. After testing a Beyond Burger last year -- and subsequently receiving a nomination in the best plant-based burger category at Thrillist's fast food awards -- A&W has decided to launch its delicious vegetarian-friendly burger nationwide.
The Beyond Burger consists of a grilled meat-like vegetarian patty that's topped with Papa Sauce, lettuce, tomato, onion, and pickles all on a toasted bun. In addition to the tradition Beyond Burger, A&W is also making a meatier flexitarian option that includes strips of hickory-smoked bacon.
"A&W is bringing the same quality that made our traditional burgers famous to the Beyond Burger," Sarah Blasi Mueller, senior vice president of marketing and development for A&W, said in a press release. "In our tests we learned that a lot of guests want the best of new and old. That's why we are offering a Beyond Burger version of our Original Bacon Cheeseburger that adds salad dressing, hickory-smoked bacon, American cheese, lettuce, tomato, onions and more pickles."
If you're trying to reduce your meat intake, maybe try a Beyond Burger from A&W. It has all the fixings and flavors you love from a traditional burger without the meat. And maybe, in due time, A&W will swap out the hickory-smoked bacon for strips of Beyond bacon that are currently in development.
Sign up here for our daily Thrillist email and subscribe here for our YouTube channel to get your fix of the best in food/drink/fun.
Kat Thompson is a staff writer at Thrillist. Follow her on Twitter @katthompsonn.