Loads of things can go wrong on your wedding day. Your partner could run away from the alter a la The Graduate. The catering company could serve poisoned food to your guests. Or, if you're a character on Game of Thrones, your wedding could be little more than an elaborate ploy to kill someone. But most people aren't prepared to be bitten by a rattlesnake on their wedding day, which is what happened to a Fort Collins, Colorado groom.
Johnny Benson, after being married to Laura Benson for mere minutes, was bit in the calf by a young rattlesnake as the couple were having their photos taken. "All of a sudden it was like someone kicked me in the shin," Johnny told the Denver Post. "Then I looked over and saw the snake sitting there, and it was rattling."
Recommended Video
Atlanta: The Ultimate Local's Guide
Laura and wedding photographer Maddie Mae scrambled to flag down a Larimer County Park Ranger who was driving by. "All three of us started waving furiously at him," Mae told Thrillist. "He rolls down the window and we yelled, 'He just got bit by a rattlesnake!' The ranger, obviously not hearing what we said, yelled back, 'Congratulations!'"
Once it was clear what was going on, the park ranger came and elevated Johnny's leg while they waited for paramedics to arrive.
Once the park ranger was helping, Mae went back to snapping photos, commemorating the strange happenings on Johnny and Laura's special day. "When Johnny first got bit, I didn't keep shooting," Mae said. "Once the Ranger was taking care of Johnny and had called the paramedics, and the situation as under control, that's when I started taking photos. 
"The couple didn't ask me to do this... I guess it was my instinct as a photographer to continue photographing and telling the story of their day... wherever that took us."
It took them to the E.R.
It wasn't clear if the rattlesnake had injected venom into Johnny's leg, and that left their status for the rest of the day up in the air, as their guests patiently waited at the reception for the couple to arrive. "Not knowing if the rattler had injected venom, the initial prognosis was pretty dire," said Mae. "At a minimum they said he could be in the hospital for several hours to assess the bite. At worst, if he needed anti-venom, he could be in the hospital for several days." It's not how he envisioned his wedding night in an ideal world.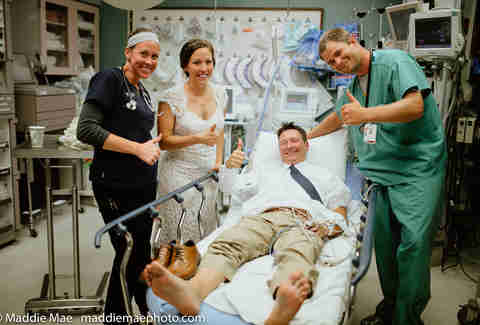 The E.R. visit lasted just 20 minutes after it was determined that he had suffered was a "dry bite" (no venom) and, though it probably hurt plenty, the couple were free to head back to the reception. They hopped into the photographer's car and returned to their previously scheduled activities.
Despite everything that happened, the couple wound up being just an hour late to the reception. "I've never seen such a emotional 'grand entrance' as all 184 guests cheered when Johnny and Laura walked in, and showered them in a sea of passionate hugs," said Mae. 
The couple are currently out enjoying their honeymoon, presumably armed with a little more information about what to do in case of a snake bite.