'Mad Men' Sets and Props Are Up for Auction, and You Can Buy Them
Half the fun of watching Mad Men was the set and costumes (and Roger Sterling tripping balls). It so perfectly represented what was appealing about fashion in those eras that there was a museum exhibit about the look of the show. 
You aren't alone if you thought about dressing like Don or Betty Draper, decided your office really needed a mini bar, longed for a three-martini lunch, or seriously considered buying pastel kitchen appliances. It's not recommended that you assume you can pull off a full Mad Men transformation of your life -- no one has that jaw line in real life, Jon Hamm, no one -- but you can get a little piece of the show's look. Screenbid has launched an auction for set pieces from Mad Men.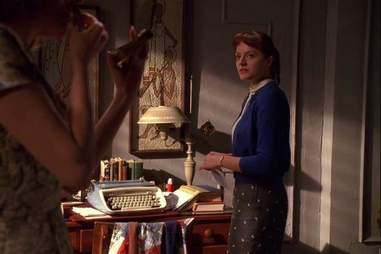 Peggy's typewriter, seen here, is among the auction items.

| AMC
You won't find any Betty Draper dresses or Pete Campbell bald wigs, but you will find Peggy Olson's powder blue type writer, Roger Sterling's Ray Bans, and Pete's ridiculously fantastic globe bar cart.
 
Hell, you can even go big if you're in a full-blown midlife crisis. Don Draper's 1964 Chrysler Imperial convertible is up for auction. It even comes with a certificate of authenticity so you aren't driving down the road with a John Voigt's car situation on your hands.
Don Draper's convertible is among the auction items.

| AMC
There aren't any starting prices on the site, but if you're just looking for a pair of glasses like those worn by Harry Crane, you can probably find cheaper ones than the exact ones Harry Crane wore on the show. On the other hand, these are the exact frames that Harry Crane wore on the show.
The Mad Men auction starts June 1.
 
Joan's ice bucket (back right) is up for sale.

| AMC
The auction includes Don's orange office chairs.

| AMC
Pete Campbell's amazing globe bar cart.

| ScreenBid
Sign up here for our daily Thrillist email, and get your fix of the best in food/drink/fun.
Dustin Nelson is a News Writer with Thrillist. He became a writer by assuming the life of Dustin Nelson. His real name is Whit Richman. Follow him @dlukenelson.