Disney's Opening Its Newest Park in Shanghai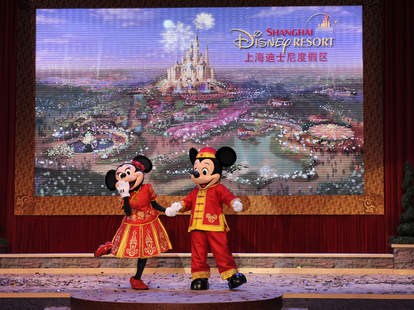 David Roark/Disney, photographer
Here's some news that'll tickle your mouse ears -- assuming you're wearing a set of Mickey Mouse ears ATM -- and get you zippity doo dah-ing: Disney is opening a new park. And it's in one of the fastest-developing places in the world that's not called "Rhode Island." Nope, it's in China. Sorry, Rhode Island.
Started two years ago, construction on the new Shanghai Disney Resort is finally set to finish, with an opening date set for June 16, 2016, making this the first Disney park in mainland China. It's basically like all the other Disney resorts around the world, but in China. And according to Disney chairman, Robert A. Iger, "When it opens in June, Shanghai Disney resort will be a one-of-a-kind, world-class destination that is authentically Disney and distinctly Chinese." Which makes sense, again, because it's a Disney park in China.
Some social media users have joked about the park's unfortunate 6/16/16 opening date (because of the whole 666 thing), but the park sounds anything but ominous. Well, except for how happy all those people in costumes seem. They're a little too happy. Park goers should expect all the whimsical, classic story-telling of Disney with a dose of Chinese culture. The whole Disney compound includes not just the theme park, but two hotels, a shopping district, and a recreational garden area. 
Take a look at artist renderings of the park below. Pro tip: They look better if you view them whilst wearing Mickey Mouse ears.
Disney Parks
Disney Parks
Sign up here for our daily Thrillist email, and get your fix of the best in food/drink/fun.
Kara King is a News Writer at Thrillist and outgrew her Mickey ears. Send news tips to news@thrillist.com and follow her at @karatillie.