There's No Way You're Getting a White Christmas This Year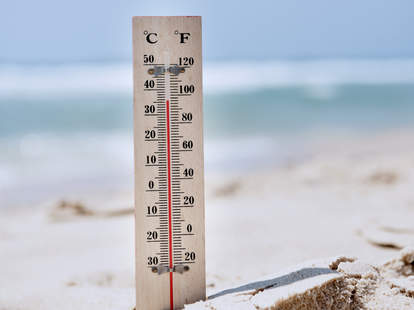 If you're pining for those frosted windowpanes, you're not going to be happy with the latest weather report.
According to the Weather Channel, if temperature patterns continue, it will be the warmest Christmas in years for anyone living on the east side of the Mississippi. They predict "broad southwesterly wind flow over the eastern U.S., importing balmy air from the deep tropics by Christmas Day," which in normal person language means, anyone living on the right half of the United States should expect excessively mild temperatures instead of a white wonderland.
Though it's a little early to predict exact temperatures, those currently showing on Accuweather.com have Washington DC at a 69 degree Christmas Day, New York boasting 59 degrees, and Chicago coming in a little colder at 45 degrees. 
The map below visualizes just how abnormally warm things are going to get. Check out the map, and then buy some decorative, fake icicles if you need the snowy atmosphere that bad. 
Sign up here for our daily Thrillist email, and get your fix of the best in food/drink/fun.
Kara King is a News Writer at Thrillist and has never had a White Christmas. Send news tips to news@thrillist.com and follow her at @karatillie.