This New Pink Beer Is the Perfect Way to Enjoy a Totally Ridiculous Holiday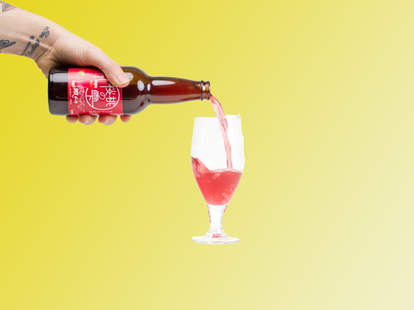 There are a lot of reasons to not give a damn about Valentine's Day. But don't let beer having a boring brown or golden color be one of the things getting you down. There's pink beer! It's real and it can be your own way of mocking the holiday. (Or it can be your way of just enjoying V-Day. Up to you.)
The beer comes from the same Japanese brewer that brought you a deliciously blue beer. Abashiri Pink Beer touts "a crisp white head and subtle cherry flavor" on Firebox, where it can be purchased. 
The 5 percent ABV beer is cherry flavored and has the hue to prove it. It's brewed with cherries grown in the far north of Japan, "where they're exposed to the harsh frost blowing in from the Okhotsk Sea."
The beers are a little pricey (even before you factor in shipping), but for something off the beaten path like this, it might be worth it. Unfortunately, Firebox isn't shipping to the U.S., so readers there are out of luck for now, because Firebox is the only place carrying it. But, you know, write your local representative or something.
Sign up here for our daily Thrillist email, and get your fix of the best in food/drink/fun.
Dustin Nelson is a News Writer with Thrillist. He holds a Guinness World Record but has never met the fingernail lady. He's written for Sports Illustrated, Rolling Stone, Men's Journal, The Rumpus, and other digital wonderlands. Follow him @dlukenelson.