Adam Rippon Just Turned Down an NBC Olympics Correspondent Job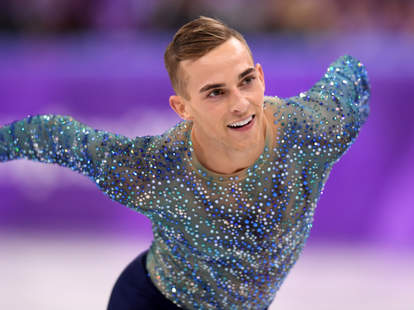 getty images/getty images sport/Harry How/Staff
UPDATE - February 18, 10:30pm ET
Despite NBC's announcement earlier on Sunday that Adam Rippon would join the network as an Olympics correspondent for the remainder of the PyeongChang Games, the figure skater has pulled out of the deal, according to a report by CNN.
Rippon said he was flattered by the offer, but decided against it because he'd be separated from his teammates.
"It's so important to me, you know, I worked so hard to be on this Olympic team, and my teammates and my friends were there for me during my events, and that meant so much to me, that I really feel like I need to be there for them during their events," he said while on NBCSN.
Unfortunately, it looks like you won't be seeing way more of Rippon after all. At least, for now.
In just a short time, Adam Rippon became the first openly gay American to qualify for the Winter Olympics, became arguably the most beloved Olympian in the world, and helped win a bronze medal for Team USA at PyeongChang. To top off this incredible run, it was just announced that Rippon will be serving as an NBC correspondent for the remainder of the 2018 Olympic Games.
NBC spokesman Greg Hughes told USA Today that the 28-year-old figure skater will be appearing on "a variety of platforms, including television, digital and social media."
Rippon is a natural fit for the role considering his first-hand experience with the Winter Games and his remarkable ability to toss off iconic quotes. For instance, when he was asked back in December what it's like to be a gay athlete, he responded: "It's exactly like being a straight athlete. Lots of hard work but usually done with better eyebrows." Quotes like that, plus his unique take on the quality and location of Olympic condoms and his devotion to making Reese Witherspoon proud, leave no doubt that he's going to be as much a natural at this as he is at figure skating.
His new position could prove slightly controversial, however, as back in early January Rippon made headlines for publicly criticizing the decision to have Vice President Mike Pence lead the US delegation to the games. Thus far, though, the response has been pretty much ecstatic.
Sign up here for our daily Thrillist email and subscribe here for our YouTube channel to get your fix of the best in food/drink/fun.

James Chrisman is a News Writer at Thrillist who believes making snow angels should be the marquee event of the Winter Games. Send news tips to news@thrillist.com and follow him on Twitter @james_chrisman2.