Young Adele Singing at a Small Bar Shows She Was Always a Star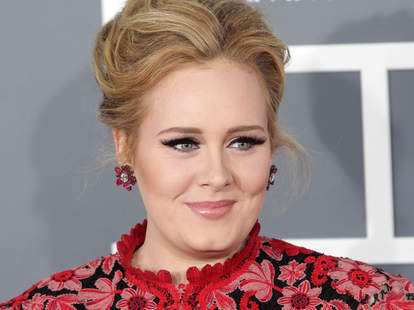 <a href="http://www.shutterstock.com/gallery-673594p1.html?cr=00&amp;pl=edit-00">DFree</a> / <a href="http://www.shutterstock.com/editorial?cr=00&amp;pl=edit-00">Shutterstock.com</a>
Contrary to popular belief, Adele isn't an angel sent down to cure the world's heartbreaks. No, she's a human who had to work her way up to superstardom by playing small shows at local bars in places like Cardiff, Wales. And fortunately, there's proof.
Footage recently resurfaced of a young Adele performing at Buffalo Bar in Cardiff back in 2007, and of course, she sounded incredible, even back then. According to Wales Online, the show was part of a UK tour to promote her single "Hometown Glory," meaning this was Adele on the cusp of her own glory.
"An agent got in touch and said she was working with this singer who wanted to play a show in Cardiff," ​John Rostron, who promoted the show, told Wales Online. "The songs we heard were good and her voice was fantastic, so we booked a show into Buffalo Bar. I think about 60 people came. Adele was proper funny and swore like a trooper."
"She was very approachable after the gig and willing to chat and take compliments on a good gig," audience member Paul Wakefield added. "She was very down to earth, as was the banter during the performance." Clearly Adele was always a lovely human.
Below are three videos of the show posted by snoweybuda in 2008 that only have a couple hundred views. The last of the set shows Adele singing an acoustic version of "Hometown Glory" with her usual deep feeling. Listen with tissues on hand. 
Sign up here for our daily Thrillist email, and get your fix of the best in food/drink/fun.
Kara King is a News Writer at Thrillist and needs a tissue. Send news tips to news@thrillist.com and follow her at @karatillie.