March came in like a lion, with blizzards taking a dump across the country. But this out like a lamb nonsense doesn't mean it suddenly feels like summer. It also doesn't mean you're on vacation eating tacos, which would be a much better saying. March comes in like a lion, out like a dude hanging on vacation eatin' tacos.
That's not a real saying, but it could become your personal maxim. Aeromexico is offering cheap tickets to Huatulco or Ixtapa and Zihuatanejo to make good on your new personal maxim. Tickets can be found as low as $158 roundtrip to Huatulco or $174 to Ixtapa/Zihuatanejo flying out of Houston. It's not limited to Texas, though. Cheap tickets are available in many cities. To Huatulco, there are tickets out of Miami for $188, Dallas for $218, Los Angeles for $219, San Francisco and Chicago for $220, and Washington D.C. for $258. 
If you're heading to Ixtapa, you can get there for $204 out of Miami, $234 out of Dallas, $235 from Los Angeles, and $236 from San Francisco and Chicago.
Recommended Video
Art of the Meal: Chloe Rose Makes Super Mario Bros Art With Hot Sauces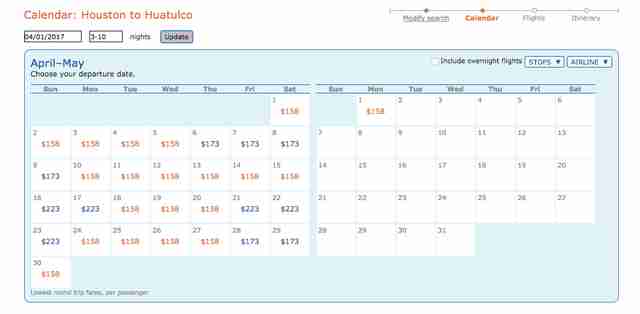 To take advantage of these prices, you'll need to use the ITA Matrix Airfare Search. At the search page, enter your departure city and then HUX for Huatulco or ZIH for Ixtapa/Zihuatanejo. In the advanced routing code fields, enter "mex / -overnight."
Below, click "see calendar of lowest fares" and select a date in April. Then enter "3-10" for your length of stay and your mouth is almost full of delicious lengua tacos and Jarritos. 
As always, tickets may go quickly and prices can change. These prices are accurate at the time of publication. To take advantage, get on it quickly.
h/t The Flight Deal