This Is Everything to Know About Air France's New Business Class Cabins
A look at the Business Class that will soon be available on Air France flights worldwide.
Courtesy of Air France
Courtesy of Air France
I'll be super honest here. Normally when I travel, I'm looking for the absolute cheapest seat available. If I could get a discount for being strapped to the wing with a thick coat and an oxygen mask, I'd probably do it. But, as anyone who has flown recently knows, you are really getting exactly what you pay for. An Economy Class seat doesn't feel much cozier than being tied down in the cargo hold on so many flights these days. At least the cargo hold won't be so infernally hot. In most cases, flying in 2023 means being subjected to uncomfortable seats, foul-tasting airline food, and the acceptance that your six-hour flight is going to feel like it's taken 10-15 years off of your life.
Recently, I had the opportunity to have the inverse experience, testing out Air France's brand new Business Class cabin, currently available on flights from New York JFK to Paris CDG. The new seats are expected to roll out to other locations throughout the year. And, in terms of experience, it doesn't get more sublime than the new Business Class seats from Air France. I left my red-eye flights full of good, fresh French food, well-rested, and ready to go about my day.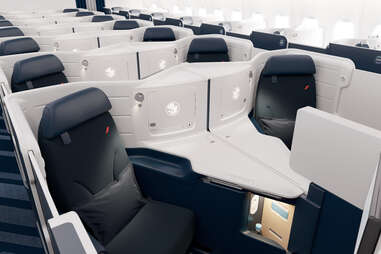 For starters, you'll be able to recline your seat all the way down, so that you're laying completely flat. As a 5'7" woman, I had excess leg room in the six-and-a-half foot cabin space. Two other seat settings allow you to sit all the way up and in a semi-reclined position. All Air France Business Class seats will be able to fully recline by Autumn 2023.
The food you will be served on long-haul flights from Paris can be found on menus helmed by French Michelin-starred chefs including Régis Marcon, Anne-Sophie Pic, and Michel Roth. The food served on flights to Paris is from Daniel Rose from Le CouCou. The wine and champagne list on board is curated by sommelier Paolo Basso. Before you even land in Paris, Business Class customers get their very first taste of fine French dining. All cabins will be served dairy, meat, and eggs that is 100% from France.
Even more exciting? Your seat will transform into its own sort of cabin, with a sliding door that gives you total privacy from the walkway. The closed door acts as a DND alert to flight attendants, meaning that you might just actually get the kind of sleep you need on a red-eye flight.
The new Business Class will have 48 seats, and each will be outfitted with double tray tables, extra large in-flight entertainment screens, and 1,000 hours of entertainment to choose from. Noise-canceling headphones mute the usual drone of plane noises. After I woke up from my nap on the way back to New York, I enjoyed some of the new menu offerings (a delicious sandwich with egg mayonnaise, pickled onions, and fava beans), and watched Don't Worry Darling. For someone who hates flying, this was about as relaxed as I could imagine myself on an airplane.
The new Business Class seats, which currently serve Dakar, Rio de Janeiro, and New York from Paris, don't come cheap. For February, fares from New York to Paris start at just under $4,000 each way. But, if you've got the cash to spare or are looking for a way to ensure your entire Parisian experience is extra luxurious, this new Business Class cabin might be for you. Personally, I'm putting these seats on the vision board for my honeymoon.
You can explore fares and keep an eye out for additional routes featuring the new Business Class experience at AirFrance.us.